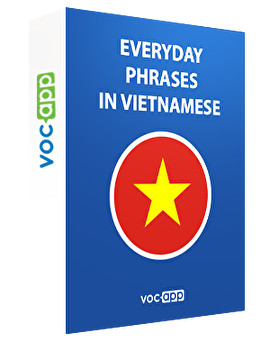 Everyday phrases in Vietnamese
More than 500 useful phrases in just one course!
A collection of greetings, shopping expressions and much more
Use repetition to remember the new vocabulary forever!
Master Vietnamese for any situation!
Try learning Vietnamese with VocApp! It will be fun!
×
Questions?
Create account >

Select the payment method

>

Payment

>

Confirmation of registration
try it for free (20 flashcards)
Get full access
Greetings, farewells and courtesy phrases - Các cụm chào hỏi, chào tạm...




20 flashcards

Shopping - Mua sắm




20 flashcards

At school - Ở trường




19 flashcards

In a bank - Trong ngân hàng




20 flashcards

In a restaurant - Trong nhà hàng




20 flashcards

In an interview - Trong buổi phỏng vấn




20 flashcards

At work - Tại công sở




20 flashcards

In a hotel - Trong khách sạn




20 flashcards

Show all lessons (26)
If you are not satisfied with the product you have bought, contact us and we will reimburse your money.
Marcin Młodzki
,
board member
(Warsaw, 1st Oct 2018)
VocApp Sp. z o.o.
ul. Mielczarskiego 8/58 | 02-798 Warszawa
TAX NUMBER: PL 951 245 79 19
vocapp@vocapp.com
Address
VocApp Sp. z o.o.
ul. Mielczarskiego 8/58
02-798 Warszawa
NIP: 951 245 79 19
REGON: 369727696
Is learning Vietnamese difficult?
Is learning Vietnamese difficult? Most people think that Vietnamese is "a very difficult language." Many Vietnamese people believe that it's almost impossible to use this language fluently. Therefore, in Vietnam, there is a saying for this question: "The hardships of struggling with a violent storm doesn't compare to the hardships of mastering Vietnamese grammar".
A general assessment of the gorgeous Vietnamese language
Vietnamese has all the features of a beautiful language
Vietnamese is a harmonious language in terms of tonality but also very delicate and flexible in a sentence
Vietnamese has been given the full ability to express the feelings and thoughts of Vietnamese people and to satisfy the requirements of the cultural life of the country through historical periods
How to learn Vietnamese?
Vietnamese is one of the potential languages to learn when you decide to travel to Vietnam or even live a long time in Vietnam. It shapes the thought of learners about the character and behaviour of a Vietnamese citizen. In order to find the answer to the question of how to learn Vietnamese, learners also need to have the most effective learning method. Here are some tips to help foreigners learn Vietnamese phrases:
The best way to learn the Vietnamese language: you should have passion and love for Vietnamese. You can learn Vietnamese phrases every day when you are passionate about Vietnamese.
From the beginning, you should define the importance of the Vietnamese language. By learning Vietnamese every day, you will realize that some Vietnamese phrases create a personality of each person, helps one explain their behaviour.
Do not put so must pressure on the shoulder when you learn Vietnamese phrases. If you push yourself to learn Vietnamese phrases and remember them, you will feel depressed and lack interest in Vietnamese.
Embody the characters in the story, participate in outdoor challenges when you are learning Vietnamese phrases, increase your passion and ability to learn.
Learning Vietnamese phrases by VocApp
To be sure with the best of your Vietnamese phrases every day but do not have enough time to join a class, you should download VocApp. This will help you not have a headache about how to learn Vietnamese phrases every day conveniently. VocApp with its convenience will help you learn Vietnamese phrases effectively.
Therefore, you can continue with the Vietnamese in 1 day course. Start to learn Vietnamese phrases today, you will be good at this language soon!
---