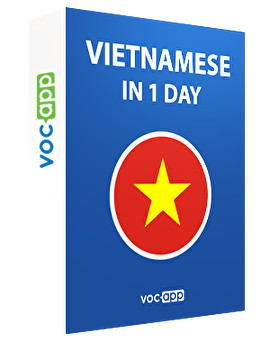 Vietnamese in 1 day
Want to learn Vietnamese in 1 day? Now it's possible!
The most useful words and phrases in one course
Master some untranslatable Vietnamese words to speak like a native
Learn to express yourself in the most common situations
Travel and talk without any translator!
Sign up for free
This course is 100% free. We want to show you how fast & easy you can learn with us.
10 words in 10 seconds - 10 từ vựng trong 10 giây




10 flashcards

Questions - Các câu hỏi




12 flashcards

Polite expressions - Biểu ngữ lịch sử




16 flashcards

People - Mọi người




40 flashcards

Activities - Các hoạt động




29 flashcards

Untranslatable words - Các từ không thể phiên dịch




5 flashcards
Is Vietnamese difficult to learn?
I believe you have searched for many sources with a doubt thinking is Vietnamese easy to learn? On behalf of many foreigners that used to live and work in Vietnam, we would like to confirm that learning Vietnamese is not difficult at all. Many foreigners feel so impressed because when they hear spoken Vietnamese, it often sounds like people are singing. So if you want to learn Vietnamese, start practicing to sing a few greetings!
Before learning Vietnamese, you should know there are:
29 letters (17 consonants, 12 vowels)
11 consonant clusters: kh, nh, gi, ng, ngh, ph, tr, ch, gh, th, qu
6 tones in Vietnamese
3 well-known Vietnamese dialects: Northern Vietnamese dialect (Ha Noi), Central Vietnamese dialect (Hue), and Southern Vietnamese dialect (Ho Chi Minh)
How to start learning Vietnamese?
Familiarize yourself with the alphabet. During communication, many foreigners can speak Vietnamese but do not know the names of the letters in the alphabet. When needed, they take the pronunciation of the English alphabet instead. From that fact, it is necessary to introduce the Vietnamese alphabet to learners in the first lessons.
Familiarize yourself with the tone system (accents) and pronunciation. Vietnamese has 6 bars (6 marks). If pronounced incorrectly, it will be easy to mistake one sign with another.
Practice Vietnamese pronunciation. There is a very complex system of Vietnamese vowels and consonants. Correctly pronouncing these sounds is a challenge. In addition to the listening - repeating method, learners need more specific instructions and explanations from teachers to distinguish them.
Let's check it out some "Very basic Vietnamese" vocabulary. Here are some Vietnamese greetings:
Hello/Hi! = Xin chào!
How are you? = Bạn khoẻ không?
Are you Vietnamese? - Bạn là người Việt Nam phải không?
Thank you! = Cám ơn bạn!
I love you! = Tôi yêu bạn!
How to learn Vietnamese?
Learning Vietnamese usually takes a lot of time and you also need to have patience. Thanks to VocApp, you can accelerate your Vietnamese learning process and help you reach your goals faster than you think. VocApp would be a potential option for you, this is the best way to learn Vietnamese on the app. Everything becomes easy when VocApp have been always there to translate English to Vietnamese for you.
Arrange a suitable time to learn new vocabulary and phrases about Vietnamese. You can plan out lessons that fit your schedule due to VocApp. Now you don't need to rush lessons at school or cancel meetings.
Vietnamese in 1 day will help you to learn basic Vietnamese, getting along with very easy for Vietnamese beginners. Companion with VocApp, Vietnamese will be no longer a harsh challenge! The way to apply these basic greetings in Vietnamese will also be simple and convenient for you! Moreover, you can learn Vietnamese: day 2 parallel with the courses Vietnamese in 1 day and Vietnamese for travelling.
---