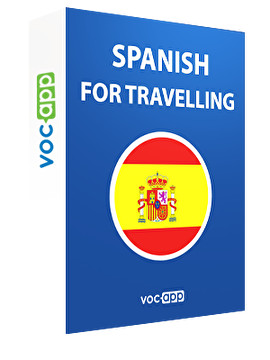 Spanish for travelling
Survival guide
Make sure language won't be an obstacle during your trip!
Get to know the essential Spanish vocabulary you'll need in your journey
Experience the Spanish culture at its best
Plan your trip with useful tips prepared for you by the Spaniards themselves
×
Questions?
Create account >

Select the payment method

>

Payment

>

Confirmation of registration
try it for free (20 flashcards)
Get full access
Plane - Avión




45 flashcards

Car - Coche




39 flashcards

Hitchhiking - Autostop




10 flashcards

Long-distance bus - Autobús de larga distancia




24 flashcards

City bus - Autobús urbano




17 flashcards

Train - Tren




33 flashcards

Ferry - Ferry




10 flashcards

Hiking - Senderismo




26 flashcards

Show all lessons (24)
If you are not satisfied with the product you have bought, contact us and we will reimburse your money.
Marcin Młodzki
,
board member
(Warsaw, 1st Oct 2018)
VocApp Sp. z o.o.
ul. Mielczarskiego 8/58 | 02-798 Warszawa
TAX NUMBER: PL 951 245 79 19
vocapp@vocapp.com
Address
VocApp Sp. z o.o.
ul. Mielczarskiego 8/58
02-798 Warszawa
NIP: 951 245 79 19
REGON: 369727696
Travel Spanish vocabulary
Spain is a very diverse and beautiful country. It is known for the sunny weather and impressive beaches, but there are many more things to enjoy there. It offers you the possibility to see picturesque mountain and ocean sceneries, to try tasty food and spend time in some of the best cities in the world. Many people dream to learn some travel Spanish vocabulary in order to impress the locals with what they know. The travel Spanish words and phrases can be very important in places where people don't speak English or in situations when you urgently need to ask for help or explain something, that is why our linguists created this professional course with travel Spanish vocabulary. Learning the words included in this travel Spanish course will allow you to understand the local people better, get to know the culture and mentality in the country and make many new friends. Also, the travel Spanish course will be very useful for those who travel to hidden places that aren't popular to tourists. Learning travel Spanish vocabulary makes travelling so much easier! You'll be able to ask for directions or to buy a ticket in Spanish. If you will know some travel Spanish phrases, it will get you out of trouble.
How to learn travel vocabulary efficiently?
If you're looking for a fast and effective way to learn travel phrases in Spanish, you already found it! Our multisensory learning method is based on flashcards with translation and pronunciation. Moreover, we use a Spaced Repetition System that gathers the most difficult words and phrases in Spanish from the travel Spanish vocabulary of this course and forms repetitions. You can download our app to set a reminder to study or repeat. Also, you can download the course as a text or audio file to learn on the go. All of these special features make learning travel Spanish vocabulary easy and fast. The Spanish to English translation will explain to you the word or phrase in Spanish, while you'll repeat the pronunciation of the lector. This way, you will kill two birds with one stone learning new travel Spanish words and phrases and mastering their pronunciation. The course includes several lessons on different topics with important vocabulary. Here are some of the things you will learn with our travel Spanish course:
1. Courtesy phrases in Spanish
2. Vocabulary to talk about people
3. How to form questions in Spanish
4. Common Spanish verbs
5. Some untranslatable words explained by our linguists
Learn how to say good afternoon in Spanish, discover how is please in Spanish and what are the other important phrases in Spanish to prepare for a great trip to a Spanish speaking country.
More Spanish courses
If you're interested to continue learning Spanish, you're passionate about this language and culture or you need to learn it for studying or professional purposes, make sure to take a look at the wide diversity of professional courses that we have on our site and in our app. They will help you learn more Spanish words and phrases in Spanish to enrich your vocabulary and understanding of the language. No matter what level are you and what is your purpose, you will find something suitable from our list. If you're planning to learn some more basic Spanish, take a look at the courses Spanish in 1 day and Spanish: day 2 courses. Interested to learn many new phrases in Spanish? Then the course Everyday phrases in Spanish is for you! If you want to get to know the Spanish culture from within, take a look at the Spanish culture course. Learn Spanish efficiently with VocApp and achieve impressive results!
---