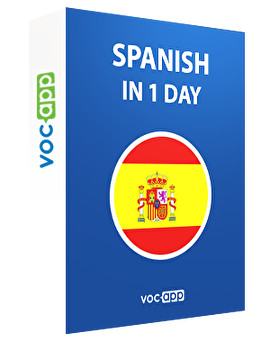 Spanish in 1 day
Learn basic Spanish without effort
Learn the basics of the Spanish vocabulary
Start reacting like a native speaker!
Get to know the language of Shakira, Pablo Picasso and Gabriel García Márquez
Our recordings will help you master Spanish pronunciation
Sign up for free
This course is 100% free. We want to show you how fast & easy you can learn with us.
10 words in 10 seconds - 10 palabras en 10 segundos




10 flashcards

You already know that:) - Lo que ya conoces:)




11 flashcards

Questions - Preguntas




13 flashcards

Polite expressions - Expresiones de cortesía




19 flashcards

People - Personas




32 flashcards

To be, to have, to go - Ser/estar, tener, ir




14 flashcards

Activities - Acciones




32 flashcards

Untranslatable - Intraducible




9 flashcards
Why is Spanish unique?
Spanish is a dominant language in the west, with over 300 million people speaking it as a native language. This popular language is spoken in over 45 countries of the world. It's history is very old and starts in the 13th century. More than that, the Spanish language is very commonly used on the Internet, with over 8% of users speaking Spanish online. According to the estimations, an English native speaker needs to study Spanish for about 24 weeks in order to become generally proficient, which means that learning Spanish in not that difficult! It is even easier when you do it with a scientific method that was proved to be effective! That is exactly what we propose you to do - to study with our flaschards and the multi-sensory learning method! This will allow you to learn Spanish fast by yourself! Our flaschards include everything you need in order to understand common Spanish phrases and words. Dedicate at least 5 minutes a day to studying with VocApp's flaschards in order to remember the most common Spanish phrases, understand the basic grammar and learn to communicate in Spanish!
Learn Spanish easily with us!
This basic Spanish course will present you the common Spanish phrases that you need to know in order to visit Spain or start a conversation with a native speaker! Our linguists included only the most important and useful common Spanish phrases in several Spanish lessons of this course. You will learn how to ask how are you in Spanish and how to present yourself saying my name is in Spanish. Moreover, the common Spanish phrases include sorry in Spanish. These common Spanish phrases will help you make a good impression on a person and discuss general things with them. The flashcards include fun pictures, Spanish to English translations and the pronunciation of the common Spanish phrases. They will help you learn Spanish easily and master the most important words and phrases! Here are some examples of common Spanish phrases that we included in the Spanish lessons of this course:
1. ¿Cuánto? = How many?
2. ¿Quién es él? = Who is he?
3. ¡Buenas noches! = Good night!
4. Disculpe. = I'm sorry.
5. Encantado de conocerte. = Nice to meet you.
Start learning these common Spanish phrases right now to prepare for your first conversation in Spanish!
More Spanish lessons and courses
Explore our site and you'll find an entire collection of professional Spanish courses and lessons prepared by our linguists! We have courses dedicated to Spanish nouns, adjectives and verbs, courses of Spanish verb phrases, special vocabulary courses for each level of proficiency and many more! We advise you to repeat the common Spanish phrases and when you feel you already know them well, to continue learning Spanish by following some of these courses: Spanish: day 2, Spanish Vocabulary A1 and Everyday phrases in Spanish. Don't forget to download our app to learn Spanish on the go!
---