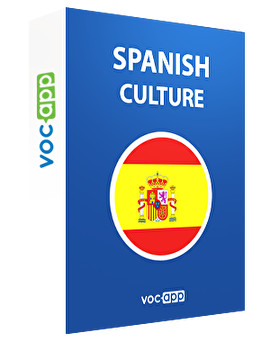 Spanish culture
Say goodbye to the days when you didn't know who Paco de Lucía was!
As a language learner, you should know that knowing grammar is not enough to master Spanish
Thank God VocApp is here to help you out!
Give our course a try and immerse yourself in the beautiful Spanish culture
We promise you will come off as a native Spaniard next time you are having a fresh Sangría in Madrid, you'll see ;)
Sign up for free
This course is 100% free. We want to show you how fast & easy you can learn with us.
Most popular Spanish singers




10 flashcards

Official languages spoken in Spain




4 flashcards

Top 10 Spanish Movies




10 flashcards

Top Spanish writers




11 flashcards

Top Spanish food recipes




20 flashcards

Touristic spots in Spain




22 flashcards

Famous Spanish sportspeople




12 flashcards

Spanish inventions




8 flashcards

Famous Spanish celebrations and events




12 flashcards

Untranslatable Spanish words




11 flashcards

Spanish must knows




12 flashcards
Why is it important to know Spanish culture?
The Spanish culture is one of the most beautiful, unique and exciting in the world. Not without a reason Spain is one of the top travel destinations every year!
Within this VocApp course, you will find out many useful information concerning Spain, some of which are actually must-know if you plan living there. For example, after 2 p.m. there's no point in going shopping because of siesta. So you'd better plan it for the evening. Spanish people start complaining saying ''Que frio", when temperature drops under 25 degrees. Life in Spain is completely different. Check our course and find a lot of interesting facts about Spain and Spanish culture!
Let's go ! Vámonos!
Do you know what is flamenco music and dance, bullfights, paella, tortilla de patatas, fantastic beaches and lots of sunshine? You will find Top Spanish food recepies, Famous Spanish celebrations and events and many other amazing things to discover in our course! Start this VocApp course and get to know how life in Spain looks like and how is Spanish culture! Whether you're planning to visit this enchanting country, or you're just curious about it, just go through our course on Spanish culture and its customs. Let's go – Vámonos!
Do you want to improve your Spanish vocabulary ?
Good idea ! Spanish language is the 2nd most popular in the world. Learn over 1000 Spanish words with our flashcards to make sure you understand the language and culture millions already speak! Broaden your Spanish vocabulary using our Spanish vocabulary flashcards and have fun! Learn new Spanish nouns, adjectives and verbs every day, remember them forever and speak just like the locals do! Learning words with VocApp can be funny and interesting. You can check your pronunciation, mark words and come back to those which you prefer to revise. Go for it !
Use Spanish vocabulary flashcards !
Do you want to know about living in Spain? Do you know about Spanish cultural differences ? Do you want to speak Spanish? Are you planning to visit Spain? Or maybe you've been there once and you want to check if you have become culturally Spanish? If so, hit Spanish culture easily with our course. More than 1000 Spanish words, carefully selected and divided by professionals to ensure more efficiency.
Get ready to get to know our other courses with VocApp !! Try Spanish vocabulary B1 and Spanish vocabulary B2 to foster your Spanish vocabulary and language proficiency tests.
---