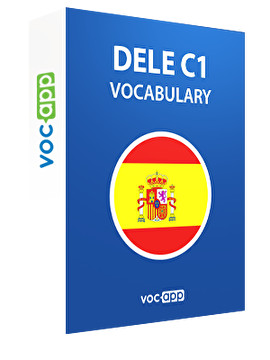 DELE C1 - Vocabulary
Prepare yourself for DELE C1 exam!
Organized thematically (idioms with colors, animals, etc.)
Over 1000 words required for DELE C1 exam
Learn how to express yourself in topics such as politics or science
Speak like a native Spanish speaker thanks to idioms
×
Questions?
Create account >

Select the payment method

>

Payment

>

Confirmation of registration
try it for free (50 flashcards)
Get full access
Finance and Economy




135 flashcards

Mass Media




82 flashcards

Culture and Art




143 flashcards

Fashion and Clothes




66 flashcards

Kitchen and Cooking




44 flashcards

Health




166 flashcards

Hygiene and Care




44 flashcards

Appearance




56 flashcards

Show all lessons (13)
If you are not satisfied with the product you have bought, contact us and we will reimburse your money.
Marcin Młodzki
,
board member
(Warsaw, 1st Oct 2018)
VocApp Sp. z o.o.
ul. Mielczarskiego 8/58 | 02-798 Warszawa
TAX NUMBER: PL 951 245 79 19
vocapp@vocapp.com
Address
VocApp Sp. z o.o.
ul. Mielczarskiego 8/58
02-798 Warszawa
NIP: 951 245 79 19
REGON: 369727696
Need more motivation to learn Spanish?
Did you know that Spanish is the second most spoken language in the world? Over 414 million people speak it worldwide, imagine how many new friends can you make! According to professionals, it takes only 24 weeks to learn Spanish and get a high proficiency level! It is also the third most used language on the Internet, a romantical language with a great history that is waiting for you to discover it! If you learn advanced Spanish, you can pass a Spanish proficiency test to prove your level and use it for academic or professional purposes. As we are sure Spanish is the language of opportunities, we created many advanced Spanish courses for you not to miss them!
Learn C1 Spanish vocabulary
Our effective flashcard method will teach you some of the most useful Spanish words and phrases for you to become proficient in Spanish. Professional linguists prepared advanced Spanish courses to help you learn the Spanish vocabulary you need for your DELE C1 level. Each of the flashcards will present you one of the Spanish words and phrases along with its definition, translation, an example in Spanish and advanced Spanish grammar. You will be able to learn the word, understand its meaning and use it in your own sentences. The lector will help you with the Spanish listening part, you will hear and repeat the right pronunciation to achieve the best results. Our courses will be a great Spanish practice that will lead you to a high level in Spanish! The specially selected vocabulary will help you learn and repeat everything you need for the DELE exam or any other Spanish level test.
Courses for the DELE exam
We prepared many more Spanish courses for you to achieve the wanted Spanish certification! If you feel like you need to review simpler vocabulary, proceed to the DELE B2 - Vocabulary course. It includes over 1500 Spanish words on different topics. If you mastered this course, we advise you to learn even more advanced Spanish with the use of the Spanish Vocabulary C2 course. It will help you achieve better results when taking the DELE exam! Learn Spanish with VocApp and impress your friends with your Spanish test results!
---