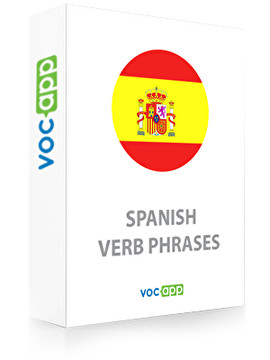 Spanish Verb Phrases
You will learn that with us!
Intelligent Repetition System saves time
Examples of usage + pronunciation
Download as mp3 and listen to your vocabulary anytime and anywhere
×
Questions?
Create account >

Select the payment method

>

Payment

>

Confirmation of registration
try it for free (40 flashcards)
Get full access
to break




46 flashcards

to catch




27 flashcards

to come




50 flashcards

to do




54 flashcards

to get




54 flashcards

to give




49 flashcards

to go




63 flashcards

to have




40 flashcards

Show all lessons (26)
If you are not satisfied with the product you have bought, contact us and we will reimburse your money.
Marcin Młodzki
,
board member
(Warsaw, 1st Oct 2018)
VocApp Sp. z o.o.
ul. Mielczarskiego 8/58 | 02-798 Warszawa
TAX NUMBER: PL 951 245 79 19
vocapp@vocapp.com
Address
VocApp Sp. z o.o.
ul. Mielczarskiego 8/58
02-798 Warszawa
NIP: 951 245 79 19
REGON: 369727696
Spanish Verbs
How to speak Spanish? This list of Spanish verbs and more than 1000 Spanish flashcards are waiting for you in VocApp's Spanish Verb Phrases course! You can print them or just download on your smartphone as mp3! We provide you with various options to learn the Spanish language! Explore and choose your favourite verb phrase!
How to speak Spanish?
The Spanish language is one of the most used languages in the world. More than 400 million people speak Spanish! Our course provides access to Spanish learning materials that will help you learn new Spanish words and what is more important Spanish verbs in various combinations. Learn Spanish easily and quickly.
POR vs PARA ¿Tienes dudas with Spanish prepositions?
Have you ever wondered about Spanish prepositions? For instance, when to use por vs para? With this Spanish Verb Phrases course, you will get to know which Spanish prepositions are suitable in a lot of situations! Broaden your Spanish using our flashcards with Spanish phrases and up your game. Learn how to speak Spanish with new Spanish verbs, nouns, adjectives every day! Remember them and speak Spanish just like the locals do!
Start this Spanish course!
Here is a list of some Spanish phrases you will learn with this course:
1. coger / atrapar un pez = catch a fish
2. pasárselo bien = have fun
3. sentir mariposas en el estómago = have butterflies in one's stomach
4. dar un beso = give a kiss
5. sonreír = give a smile
Check how many ways of use has the verb to start in Spanish. Use the adequate verb phrase in your speech! More than 25 Spanish lessons in one course are waiting for you! You can check your pronunciation, mark the verb phrase and come back to those which you prefer to repeat. This Spanish course provides a list of Spanish verbs that will make your Spanish more fluent and your conversations broader. Have fun discovering the most used verb phrases.
After Spanish Verb Phrases course, get to know more Spanish words with VocApp's Everyday Phrases in Spanish and DELE B2 - Vocabulary to foster your Spanish and language proficiency tests.
---