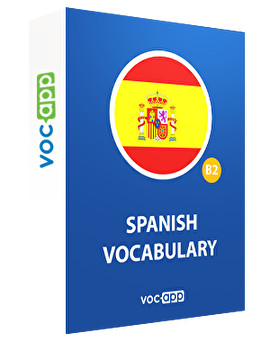 Spanish Vocabulary B2
Become a pro!
Start reacting like a Spanish native speaker
Get to know more than 2500 new words with this course!
These thematic lessons will help you express yourself on every topic
Let yourself be proud of your Spanish :)
×
Questions?
Create account >

Select the payment method

>

Payment

>

Confirmation of registration
try it for free (50 flashcards)
Get full access
Work and career - Trabajo y carrera




83 flashcards

Weather, climate and natural disasters - Tiempo, clima y desastres nat...




50 flashcards

Travelling and tourism - Viajes y turismo




77 flashcards

Road transport - Transporte terrestre




81 flashcards

Sport - Deporte




83 flashcards

Shopping and services - Compras y servicios




81 flashcards

Science and technique - Ciencia y técnica




71 flashcards

School and education - Escuela y educación




79 flashcards

Show all lessons (25)
If you are not satisfied with the product you have bought, contact us and we will reimburse your money.
Marcin Młodzki
,
board member
(Warsaw, 1st Oct 2018)
VocApp Sp. z o.o.
ul. Mielczarskiego 8/58 | 02-798 Warszawa
TAX NUMBER: PL 951 245 79 19
vocapp@vocapp.com
Address
VocApp Sp. z o.o.
ul. Mielczarskiego 8/58
02-798 Warszawa
NIP: 951 245 79 19
REGON: 369727696
Do you want to speak Spanish like a local?
¿Quieres hablar español? Learn Spanish B2 and speak one of the most popular languages in the world like a local. Over a 1000 Spanish words in our course of Spanish vocabulary flashcards will get you to B2 even if you are just a beginner. Become advanced easily with a compilation of vocabulary lists be topic and quickly get to Spanish level B2. Learn even more words with Spanish Vocabulary C1 and Spanish Vocabulary C2
Spanish B2 vocabulary
Say what you want to say with our Spanish B2 vocabulary course which includes over a 1000 Spanish words . Learn new Spanish nouns, verbs and adjectives to achieve Spanish B2 level quickly and become fluent and proficient in no time . Use our Spanish vocabulary flashcard to learn advanced vocabulary and improve your Spanish!
Spanish B2 vocabulary flashcards
Did you know that more than 400 million people speak Spanish language? Be on the same wave with them using our Spanish vocabulary flashcards and get from beginner's level to Spanish B2 . Our course contains over a 1000 Spanish words for you to use in a conversation on and topic . Learn Spanish verbs, nouns and adjectives efficiently and memorize them forever to get your B2 level!
Learn Spanish B2 vocabulary with VocApp
Our course gives you access to over a 1000 Spanish words that will get you to Spanish B2. You can learn Spanish verbs, adjectives and nouns with picture associations and make sure you pronounce everything right with MP3 recordings. Spanish language has never been so easy.
---