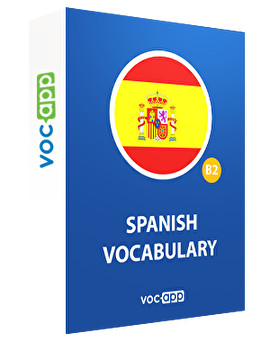 Spanish Vocabulary C1
You're so close to perfection!
¡Hola amigo! Take a chance and polish your Spanish with our thematic course
These 1600 words form a high-level set you've been looking for in your learning
Make your Spanish even more "impresionable" with VocApp ;)
Numerous hints will provide you with synonyms and other useful information
×
Questions?
Create account >

Select the payment method

>

Payment

>

Confirmation of registration
try it for free (50 flashcards)
Get full access
Work and career - Trabajo y carrera




74 flashcards

Weather, climate and natural disasters - Tiempo, clima y desastres nat...




59 flashcards

Travelling and tourism - Viajes y turismo




65 flashcards

Air transport - Transporte aéreo




80 flashcards

The world of the animals - El mundo de los animales




82 flashcards

Ball sports - Deportes de pelota y de balón




104 flashcards

Social problems - Problemas sociales




75 flashcards

Science and technique - Ciencia y técnica




70 flashcards

Show all lessons (22)
If you are not satisfied with the product you have bought, contact us and we will reimburse your money.
Marcin Młodzki
,
board member
(Warsaw, 1st Oct 2018)
VocApp Sp. z o.o.
ul. Mielczarskiego 8/58 | 02-798 Warszawa
TAX NUMBER: PL 951 245 79 19
vocapp@vocapp.com
Address
VocApp Sp. z o.o.
ul. Mielczarskiego 8/58
02-798 Warszawa
NIP: 951 245 79 19
REGON: 369727696
Spanish vocabulary C1
Hundreds of Spanish words to make sure you get that C1 level Spanish . Our Spanish vocabulary flashcards will help you keep up with any conversation even on such advanced topics as Arts or social problems. Learn new Spanish nouns, verbs and adjectives every day and achieve advanced level of Spanish easily and with fun. Make sure you learn more with Spanish Vocabulary C2 or get ready for exams with DELE C1 - Vocabulary
Advanced Spanish vocabulary
Covers such vocabulary topics as Science, Finances, Art and many more. Hundreds of Spanish verbs, nouns and adjectives in Spanish vocabulary flashcards to achieve Spanish C1 and get to advanced level quickly and with ease.
C1 Spanish vocabulary
Become advanced in the native language of over 400 million people all over the world. Spanish vocabulary flashcards will help you get Spanish C1 with lists of vocabulary by topics from relationships to social problems and arts. Hundreds of Spanish words in one course to achieve advanced level Spanish and use Spanish language freely.
C1 Spanish vocabulary with VocApp
Study Spanish C1 vocabulary with VocApp and memorize Spanish nouns and verbs forever. The course includes hundreds of Spanish vocabulary flashcards divided into lists of vocabulary topics for easy navigation and fast learning. Advanced Spanish vocabulary is a quick way to achieve Spanish level C1 and become a proficient user. Learn Spanish words and get ready for an upcoming trip or DELE exam .
---