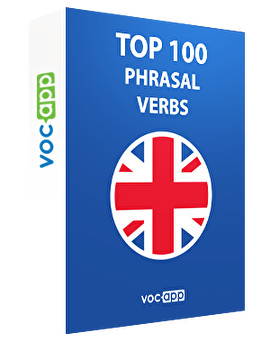 Top 100 Phrasal Verbs
Learn to speak like a native!
Do you find phrasal verbs and their usage challenging? Not anymore!
Learn the most commonly used phrasal verbs in English and their meaning with just one course!
Master informal English and use it in your next conversation!
Enjoy a fast and fun English learning process with VocApp's flashcards!
Sign up for free
This course is 100% free. We want to show you how fast & easy you can learn with us.
Top 100 phrasal verbs 1 - 25




24 flashcards

Top 100 phrasal verbs 26 - 50




25 flashcards

Top 100 phrasal verbs 51 - 75




25 flashcards

Top 100 phrasal verbs 76 - 100




25 flashcards
Top 100 Phrasal Verbs
The English phrasal verbs are phrases consisting of a verb and a different word or two, usually a preposition but sometimes an adverb. Before starting to study Phrasal Verbs it is also necessary to learn them separately. For that reason, we would also recommend you to take a look at the Top 1000 English Words course to improve your vocabulary.
The importance of phrasal verbs
Learning phrasal verbs is so important because they used by native speakers so frequently that without using them, it is impossible to sound like a native speaker. You can't get away without phrasal verbs whether it is spoken, formal or informal, in writing. That is clearly obvious to us, it is less important to know something about a foreign language than to practice it in everyday life. Phrasal verbs must be studied (and regularly practiced), because most of them are idiomatic, in other words, you can not generate their meaning by only knowing the meaning of their words.
Why should we learn phrasal verbs in English?
Learning to correctly use phrasal verbs in a casual conversation will help you sound natural
They are an integral part of the English language spoken daily
It's useful to learn them so that you won't be so formal while you interact with someone
Learning phrasal verbs is great to increase your word power
Phrasal verbs are very common in most writing
You shouldn't worry about memorising loads and loads of them right now. However, get familiar with the idea of these phrases and consider the rest of the sentence, as well as the sentences before and after, for a general idea of what they mean. If you are speaking English frequently or reading English stories and books, idioms will get easier and easier for you.
It would be wise to be familiar with at least the top 100 phrasal verbs to use when speaking or even writing. Then, you can continue developing your English skills with VocApp's courses, for example, the Top 1000 English Words course. Start learning English with flashcards to see how easy and fun it is!
---