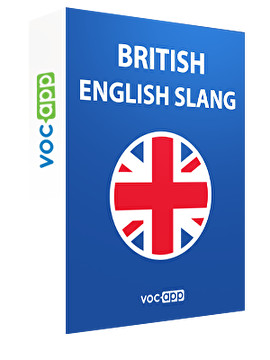 British slang
Do you like partying hard in the UK? Learn what happens around you!
You'll finally understand British hiphop and gangster films!
Start talking like a London local!
Impress your British mates!
Let us warn you - slang course contains a lot of swear words.
×
Questions?
Create account >

Select the payment method

>

Payment

>

Confirmation of registration
try it for free (20 flashcards)
Get full access
Amongst Friends




77 flashcards

Argument Vocab




56 flashcards

Celebrate good times




56 flashcards

Expressions




12 flashcards

Let's have a chat




62 flashcards

Love is in the air




80 flashcards

Make Money




25 flashcards

Meet up




50 flashcards

Show all lessons (12)
If you are not satisfied with the product you have bought, contact us and we will reimburse your money.
Marcin Młodzki
,
board member
(Warsaw, 1st Oct 2018)
VocApp Sp. z o.o.
ul. Mielczarskiego 8/58 | 02-798 Warszawa
TAX NUMBER: PL 951 245 79 19
vocapp@vocapp.com
Address
VocApp Sp. z o.o.
ul. Mielczarskiego 8/58
02-798 Warszawa
NIP: 951 245 79 19
REGON: 369727696
British slang history
British slang includes informal words and phrases used in the UK. It originated in the United Kingdom and other Anglophone countries, such as Canada, New Zeeland, Ireland and Australia. The British slang insults started to be used in the 15th century. The slang has been evolving and changing and started to become frequently used. Some of the British slang insults are used in entire Britain while others are used in specific regions. The British slang was recorded for the first time in the plays written by Shakespeare, Dekker and Middleton in the 16th century. British slang insults were included in the New Dictionary of the Canting Crew, published in 1698. The purpose of British slang insults is not only to cause offence but also to make the conversations difficult to understand for people who don't know these words. It is important to learn British slang insults and other things British people say because that will help you communicate with the locals and understand their slang. Furthermore, you'll get the possibility to learn more about the local culture and history through sayings and British slang insults.
Learn British slang insults
Learning new vocabulary can be quite challenging if you don't have enough motivation and a good-quality resource, that's why we created a professional course with British slang insults, commonly used phrases and sayings to teach you to speak like a Briton! The course includes several lessons on specific topics. Each lesson has flashcards that will present you the British slang insults and things British people say along with example sentences and English pronunciation. Our British slang translator will help you understand many new British slang insults and learn how to use them in day-to-day life. Furthermore, you can download our flashcard course to learn British slang insults on the go, even if you don't have internet. Discover the British slang for drunk and many interesting British slang insults with the use of just one course. Here are some examples of popular sayings and British slang insults you will learn with our fun and effective flashcard course:
1. banter = the playful and friendly exchange of teasing remarks
2. blud = informal way to address a male
3. adrift = if a person is adrift, they do not have a clear purpose in life
4. badass = a person with an unpleasantly extreme appearance, attitudes, or behaviour
5. chav = a young person in Britain of a type stereotypically known for engaging in aggressively loutish behaviour
Continue learning English
We are more than sure this British slang insults course taught you a lot of important vocabulary and you want to learn more. Pick one of our English courses and continue learning new vocabulary in a fun and effective way! Take a look at the course Cockney course to learn to speak like a Londoner. Also, check the English idioms course to learn important idioms and express your thoughts like a native speaker. Impress your friends and date, learn about British hip hop and use the idioms for English exams, such as CAE or TOEFL! Master vocabulary easily with VocApp's multisensory method!
---