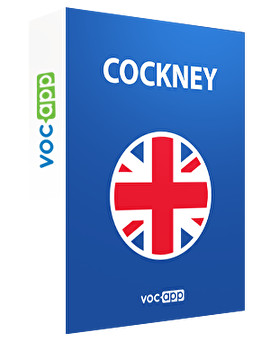 Cockney
Learn the British Slang!
High five a Londoner like a local!
Learn 100 rhymed phrases in Cockney!
Impress your date by speaking in rhymes!
Unveil the secrets of British hip hop!
×
Questions?
Create account >

Select the payment method

>

Payment

>

Confirmation of registration
try it for free (20 flashcards)
Get full access
If you are not satisfied with the product you have bought, contact us and we will reimburse your money.
Marcin Młodzki
,
board member
(Warsaw, 1st Oct 2018)
VocApp Sp. z o.o.
ul. Mielczarskiego 8/58 | 02-798 Warszawa
TAX NUMBER: PL 951 245 79 19
vocapp@vocapp.com
Address
VocApp Sp. z o.o.
ul. Mielczarskiego 8/58
02-798 Warszawa
NIP: 951 245 79 19
REGON: 369727696
Cockney
Did you know that Cockney accent comes from East London? Learn how to speak like a Londoner right now with our course on Cockney slang . Study these Cockney phrases and don't get confused by what you hear in East-End. Impress your friend by using British Cockney phrases and have a laugh at them together. Feel like a local by speaking in Cockney dialect and discover 100 rhymes for you to use every day. Learn more about accents and slang with our courses American English slang and British English slang or discover Who said that? - top 100 movie quotations in American cinema
Cockney slang
Do you want to learn what is a Cockney? By definition Cockney is somebody born in East London, but it is also a way to speak, which is called Cockney slang . Learn to speak Cockney English and sound like a local. Use Cockney slang terms if you happen to be in East-End and surprise natives with your Cockney accent. This course has a hundred Cockney phrases that will help you in any situation. You can also have a good laught at all these Cockney rhymes .
Cockney rhymes
Have you ever wondered how to define Cockney? Cockney English is a dialect spoken in East London and we give you an opportunity to learn Cockney dialect . Start learning Cockney slang and enjoy all the Cockney rhymes we have prepared for you! We put together a list of funny and interesting Cockney phrases so that you understand everything East-Enders have to say and have a good laugh at it!
---