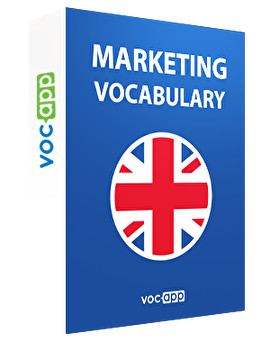 Marketing vocabulary
Useful Marketing terms and expressions
We will help you learn and understand marketing vocabulary
You can now master every advertising campaign!
Go international and broaden your advertising horizons
Cooperate with foreign marketing partners and agencies easily and efficiently!
×
Questions?
Create account >

Select the payment method

>

Payment

>

Confirmation of registration
try it for free (20 flashcards)
Get full access
Basic concepts




26 flashcards

Digital marketing




34 flashcards

Media and advertising




38 flashcards

Sales




47 flashcards

Market




23 flashcards

Brands




18 flashcards

Marketing tools and techniques




67 flashcards

Customer




18 flashcards

Show all lessons (15)
If you are not satisfied with the product you have bought, contact us and we will reimburse your money.
Marcin Młodzki
,
board member
(Warsaw, 1st Oct 2018)
VocApp Sp. z o.o.
ul. Mielczarskiego 8/58 | 02-798 Warszawa
TAX NUMBER: PL 951 245 79 19
vocapp@vocapp.com
Address
VocApp Sp. z o.o.
ul. Mielczarskiego 8/58
02-798 Warszawa
NIP: 951 245 79 19
REGON: 369727696
Key ideas about marketing
According to the American Marketing Association, marketing is the activity that creates, communicates, delivers and exchanges offerings with value for clients, customers, and partners. Marketing includes the business to business (B2B) direction of products and the business to consumers (B2C). The marketing mix consists of four levels of decision: product, price, place, promotion. The environment is another important term in marketing. The macro-environment refers to the economic, political, social and technological external factors. The micro-environment refers to the company itself, the employees, the customers, the suppliers. The internal marketing environment refers to the factors inside the company, its logistics, assets, budget, etc. These are some of the main ideas used in marketing. Now that this field is gaining more and more attention and popularity, many people want to become professional marketers or to learn some marketing vocabulary for their business. This course was created for you to learn the main marketing vocabulary on different topics and enhance your business English vocabulary.
Learn marketing vocabulary
This flashcard course includes 15 lessons on different topics with marketing vocabulary that will prepare you for an interview or meeting in English related to this field. Each flashcard will introduce you to a new word of marketing vocabulary and its definition. You will also find example sentences with gaps in order to practice what you know of the marketing vocabulary. Moreover, each flashcard includes the English pronunciation of the words from the marketing vocabulary. Here are some of the topics that are included in this course with marketing vocabulary:
1. Basic concepts such as a commercial, a deal or a consumer
2. Digital marketing vocabulary
3. Sales vocabulary
4. Brand and product terminology
5. Words related to media and advertising
More English courses
We are sure this course made you eager to learn more English vocabulary on different topics. Proceed from this course of marketing vocabulary to the International Politics course to prepare to give a speech about politics in English or to the Academic Word List course to learn English words that make you sound even smarter. Take a look at the list of our courses and find another course that interests you or a new language to learn! Master the marketing vocabulary and its pronunciation and continue learning new words with VocApp!
---