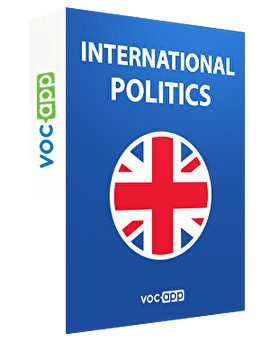 International Politics
Let's talk about things that matter!
Impress your friends by giving a speech on common heritage of mankind!
Let us help you understand CNN and BBC!
Find out what World Leaders say!
Engage in the international dialogue on politics!
×
Questions?
Create account >

Select the payment method

>

Payment

>

Confirmation of registration
try it for free (20 flashcards)
Get full access
Diplomacy




55 flashcards

Armed Conflicts




59 flashcards

Political systems




58 flashcards

Geopolitics




51 flashcards

International Economics




55 flashcards

International law




53 flashcards

International Organizations




42 flashcards

European Union




53 flashcards

Show all lessons (11)
If you are not satisfied with the product you have bought, contact us and we will reimburse your money.
Marcin Młodzki
,
board member
(Warsaw, 1st Oct 2018)
VocApp Sp. z o.o.
ul. Mielczarskiego 8/58 | 02-798 Warszawa
TAX NUMBER: PL 951 245 79 19
vocapp@vocapp.com
Address
VocApp Sp. z o.o.
ul. Mielczarskiego 8/58
02-798 Warszawa
NIP: 951 245 79 19
REGON: 369727696
International politics
Do you want to know what the most influential world leaders are saying? Or do you want to become a politician yourself? Discover our course on international politics. Get your news from BBC and CNN and understand everything after learning these English vocabulary related to international relationships and politics . We provide international politics terms for you to have a full scope on any event all over the world. Try studying international politics phrases and engage in conversations on politics and international relations or learn more topic-specific vocabulary with our courses Office Survival English, Human Resources (Business English) or Business Banking & Finance (Business English)'
Internatonal politics terms
Here is international politics concepts vocabulary that will help you understand the news better. This course on international politics terms has definitions and examples of use for various international politics terrms which makes it easier to learn and understand them. Study international politics vocabulary with over 500 hundred flashcard. We devidied them by topic, starting from diplomacy and geopolitics all the way to international law and economics. Browse throught BBC and CNN every morning and find all familiar English vocabulary related to international relationships and politics . Take part in debates on international politics or discuss the latest news with your friends. This international politics vocabulary list will prove to be useful in any situation!
---