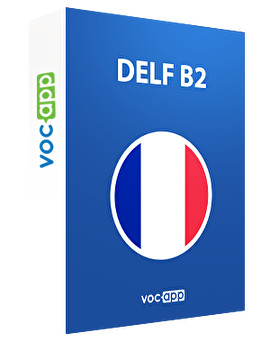 DELF B2
If you want to validate your level in French, do not hesitate to join us!
VocApp offers you an efficient and fun way to review your exam
If you're willing to validate your French level, we sincerely believe that this course has been made for you
Getting this exam will for sure make a difference on your resume
So let's start this new adventure together now!
×
Questions?
Create account >

Select the payment method

>

Payment

>

Confirmation of registration
try it for free (50 flashcards)
Get full access
Personality traits - Les traits de caractère




44 flashcards

Emotions - Les émotions




33 flashcards

Economy and money - L'économie et l'argent




37 flashcards

Animals - Les animaux




64 flashcards

Plants - Les plantes




33 flashcards

Fruits and vegetables - Les fruits et les légumes




56 flashcards

Policy - La politique




37 flashcards

Film and theater - Le film et le théâtre




36 flashcards

Show all lessons (31)
If you are not satisfied with the product you have bought, contact us and we will reimburse your money.
Marcin Młodzki
,
board member
(Warsaw, 1st Oct 2018)
VocApp Sp. z o.o.
ul. Mielczarskiego 8/58 | 02-798 Warszawa
TAX NUMBER: PL 951 245 79 19
vocapp@vocapp.com
Address
VocApp Sp. z o.o.
ul. Mielczarskiego 8/58
02-798 Warszawa
NIP: 951 245 79 19
REGON: 369727696
What is the DELF B2 exam?
The DELF B2 exam tests whether the student has a degree of independence that allows him/her to construct arguments to defend his/her opinion, explain his/her viewpoint and negotiate. Having a DELF B2 diploma means that the candidate has a degree of fluency and spontaneity in regular interactions and is capable of correcting his/her own mistakes. The diploma is given by the French Ministry of National Education and submitted to the authority of a specific national Commission at France Éducation international, they are proposed in more than 160 countries and rely on a network of over 1000 examination centres worldwide. The DELF B2 examination is based on level B2 of the CEFR (Common European Framework of Reference for Languages).
Why is important to have a language certification for the French language?
It is a language passport for mobility in Europe and worldwide.
It is a qualification that enhances your curriculum and opens the doors of the labour market in the US and France.
French is spoken by over 270 million people.
It is the working language of the major international organizations (UN, UNESCO) of the European Union and the African Union.
There are many good reasons to get the DELF B2 certification!
Make sure you will be ready in time for your DELF B2 exam!
Check out our course, which is made of 39 lessons that will help not only to improve your French language but also to get prepared for your DELF B2 exam. Thought our flashcard system you can learn while having fun, give it a try! The flashcards include everything needed: translations, example sentences and of course the French pronunciation. This ensures you will easily remember the new French vocabulary and prepare for the DELF B2 exam in the most effective way!
What will you learn with our DELF B2 course?
You will learn specific vocabulary for politics, economics, sport, art, health and education, science, film and theatre, fruits and vegetables, and words on many more topics. If you don't feel ready for your DELF B2, the DELF B1 course is there to help! Start learning with our flashcards and see how easy it is to prepare for a French exam!
---