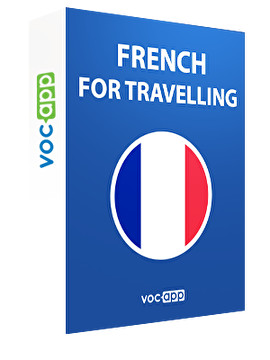 French for travelling
Survival guide
Get to know the essential vocabulary you'll need in your journey
Experience the French culture at its best
Plan your trip with useful tips prepared for you by the French themselves
Quiche Lorraine, hachis Parmentier, tartiflette... - try them all :)
×
Questions?
Create account >

Select the payment method

>

Payment

>

Confirmation of registration
try it for free (20 flashcards)
Get full access
Plane - En avion




46 flashcards

Car - En voiture




39 flashcards

Hitchhiking - En auto-stop




10 flashcards

Long-distance bus - En bus longue distance




24 flashcards

City bus - En bus de ville




18 flashcards

Train - En train




33 flashcards

Ferry - En ferry




10 flashcards

En randonnée - Hiking




28 flashcards

Show all lessons (18)
If you are not satisfied with the product you have bought, contact us and we will reimburse your money.
Marcin Młodzki
,
board member
(Warsaw, 1st Oct 2018)
VocApp Sp. z o.o.
ul. Mielczarskiego 8/58 | 02-798 Warszawa
TAX NUMBER: PL 951 245 79 19
vocapp@vocapp.com
Address
VocApp Sp. z o.o.
ul. Mielczarskiego 8/58
02-798 Warszawa
NIP: 951 245 79 19
REGON: 369727696
French for travelling
Travellers to France and other countries where French is spoken will want to learn basic French phrases. This course is a survival guide that will help you to pick up basic French phrases and essential conversational topics that will allow you to broaden your listening and speaking skills. The course consists of 18 lessons which include basic French phrases. A huge part of the attention is paid to the correct pronunciation and expansion of the vocabulary. Basic French phrases are easy to learn using our flashcards; they will help you memorize French vocabulary, phonetics and grammar, as well as understand the basics of reading.
Basic French phrases
France is the world's top tourist destination and attracts millions of visitors yearly. The ability to speak even basic French phrases is much more enjoyable as this will offer insights into France's culture and way of life. Before travelling to French-speaking countries, people are usually trying to learn French greetings such as:
Bonjour! (Good morning, Good day, Hello) The origin or the French greetings "Bonjour" comes from the combination of bon + jour: "bon" is the French word that means good and "jour" is the French word that means a day

However, the word "bonjour" didn't exist before 1230. So research suggests that "bon jor" was used to wish a "favourable day". Only in 13th century "bonjour" was added to the list of basic French phrases for daily French greetings.

Salut! (Hi!) – "Salut" is the equivalent of "hi" in English. A familiar way of saying "good morning" is "salut". It is one of the informal French greetings that is commonly used among friends and family members. "Salut" can also be used to say "Bye-bye" to your friend.
Au revoir! (Goodbye) – "Au revoir" is made of two words: "au" is a French preposition and "revoir" is a French word that means "to see again". "Au plaisir de se revoir" is also one of the French expressions with the word "revoir" that can be used when leaving while expressing the pleasure (plaisir) to meet again.
Basic phrases in French are suitable for beginners too, especially, the basic conversations it includes using daily French vocabulary. With this course, you will be able to learn basic French phrases so you could enjoy the journey.
Below are some of the topics that are covered in the course:
1.At the airport
2. Long-distance bus trips
3. Ferry
4. On the train
5. At the border
6. At the hotel
7. At the restaurant
French expressions
To master new skills while learning basic French phrases, we suggest you start with the Everyday phrases in French course. You can also help your kids learn basic French phrases with our French for children course. If you want to learn French vocabulary for IT purposes, please refer to the IT (Business French) course. After these courses, you would be able to communicate effectively.
On behalf of the VocApp team, we are wishing you a bon voyage!
---