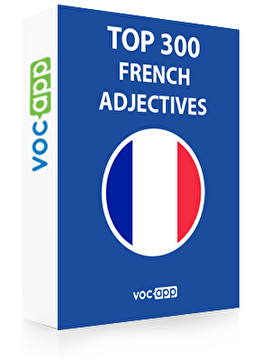 French Words: Top 300 Adjectives
Take your French to the next level!
Introduce some new adjectives to your vocabulary
Feel more comfortable using the language of Molière
Learn how to use the words in context
×
Questions?
Create account >

Select the payment method

>

Payment

>

Confirmation of registration
try it for free (20 flashcards)
Get full access
300 most important French adjectives 1 - 25




25 flashcards

300 most important French adjectives 26 - 50




25 flashcards

300 most important French adjectives 51 - 75




25 flashcards

300 most important French adjectives 76 - 100




25 flashcards

300 most important French adjectives 101 - 125




25 flashcards

300 most important French adjectives 126 - 150




25 flashcards

300 most important French adjectives 151 - 175




25 flashcards

300 most important French adjectives 176 - 200




25 flashcards

Show all lessons (12)
If you are not satisfied with the product you have bought, contact us and we will reimburse your money.
Marcin Młodzki
,
board member
(Warsaw, 1st Oct 2018)
VocApp Sp. z o.o.
ul. Mielczarskiego 8/58 | 02-798 Warszawa
TAX NUMBER: PL 951 245 79 19
vocapp@vocapp.com
Address
VocApp Sp. z o.o.
ul. Mielczarskiego 8/58
02-798 Warszawa
NIP: 951 245 79 19
REGON: 369727696
Reasons to learn French adjectives
French is spoken by over 300 million people worldwide making it one of the most popular and useful languages. This language is taught in all the countries in the world. The ability to speak French will bring many job and study advantages, including the possibility to work in some of the best companies in the world. French is also the language of culture and literature and an important language for travelling. It is an official language of UNESCO, the United Nations, and the European Union, that is why it is so important and useful to learn French. You cannot learn any language without mastering its nouns, verbs, and adjectives, that's why we prepared an entire course of French adjectives. The French adjectives are used to describe nouns and add colour to the speech. They also make the speech more friendly and less formal. Learning the French adjectives of this course will allow you to tell more about a place or thing, to make your speech much more interesting and add more meaning to it.
Start learning French adjectives now!
Use our professional course to learn the most commonly used French adjectives. Each of the French adjectives is paired with it's French to English translation and an example sentence. Thanks to our course, you will easily learn how to say pretty in French or how is good in French while mastering the French pronunciation of the French adjectives list. The special Spaced Repetition System will make it really easy to remember the French adjectives by gathering the difficult ones and forming repetitions for you to review them. Our multisensory method makes learning French adjectives very fast and effective! Here are some of the French adjectives you will learn with our fun flashcard course:
1. laid = ugly
2. désagréable = unpleasant
3. bien élevé = well-mannered
4. ensoleillé = sunny
5. sableux = sandy
Want to learn more French adjectives and their pronunciation? Proceed to the French adjectives list and start mastering the adjectives in French right now! Remember all the popular French adjectives and impress the native speakers with your French abilities!
Resources to learn French
Don't stop here! We have a lot of other professional courses to learn French. Now that you know the most important French adjectives, it will be really useful to learn some French nouns and verbs. The courses French Words: Top 1000 Nouns and French Words: Top 500 Verbs will help you with that! Also, take a look at the Everyday phrases in French course that will teach you useful French phrases to use in a hotel, at a restaurant, at work or in a meeting. The course includes French phrases for any circumstances! Continue learning French with VocApp's effective and fun multisensory method!
---