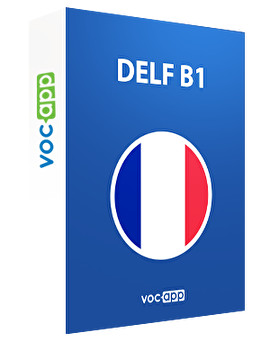 DELF B1
If you want to validate your level in French, do not hesitate to join us!
Come and practice your skills for a diploma awarded by the French Ministry of National Education
Validate your level of proficiency in French as a foreign language in all language skills
Get ready to combine fun and training with us!
This diploma training will allow you to feel more confident
×
Questions?
Create account >

Select the payment method

>

Payment

>

Confirmation of registration
try it for free (50 flashcards)
Get full access
Wishes and requests - Les souhaits et les demandes




18 flashcards

Character and physical appearance - Le caractère et l'apparence physique




26 flashcards

Body - Le corps




38 flashcards

Feelings - Les sentiments




28 flashcards

Health - La santé




63 flashcards

Family and relations - La famille et les relations




42 flashcards

Work - Le travail




46 flashcards

House and apartment - La maison et l'appartement




31 flashcards

Show all lessons (35)
If you are not satisfied with the product you have bought, contact us and we will reimburse your money.
Marcin Młodzki
,
board member
(Warsaw, 1st Oct 2018)
VocApp Sp. z o.o.
ul. Mielczarskiego 8/58 | 02-798 Warszawa
TAX NUMBER: PL 951 245 79 19
vocapp@vocapp.com
Address
VocApp Sp. z o.o.
ul. Mielczarskiego 8/58
02-798 Warszawa
NIP: 951 245 79 19
REGON: 369727696
Are you ready for your DELF B1 exam?
DELF B1 tests whether the student is competent enough to be independent. Students are challenged to maintain interaction and give their opinion, whether they are capable of dealing with situations likely to arise in daily life. DELF B1 examination is based on level B1 of the CEFR (Common European Framework of Reference for Languages).
Why is it important to have a DELF B1 certification?
French is an official language in 29 countries across multiple continents, it is the fourth most widely spoken mother tongue in the European and the second most taught foreign language in the EU. DELF B1 is required to obtain French nationality as well. Also, if you want to study at a foreign university. Some of them even require a specific certificate, such as the DELF B1. There is one more situation when having these certificates can be really useful: when you are looking for a job many companies that hire multilingual professionals prefer to give interviews to people who have these certifications. Besides, taking a DELF B1 exam is an important personal achievement.
What are you going to learn thanks to our course?
We created this course to help you with your DELF B1 exam. You will learn a lot of French vocabulary thanks to our flashcards system, in a fun and efficient way. So, don't waste any more time and start practising now with our course DELF B1 to make sure you are ready.
Here are some examples of the French vocabulary you will learn with our course:
1. décent = appropriate
2. avare = miserly
3. sévère = strict
4. vivre = to live
5. la santé = health
What's next?
If you completed the DELF B1 course and you want to learn more about the French language, check out our DELF B2 course, in order to improve your level of French and get ready for your next DELF exam. If you want to master your French business vocabulary, take a look at our Business French – HR course.
---