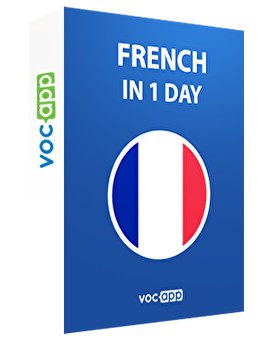 French in 1 day
Learn basic French without effort
Start to learn the language of Coco Chanel, Napoléon and Antoine Griezmann
Don't be afraid of the French pronunciation - our recordings will help you master it
Learn the basics of the French vocabulary
Having a simple conversation in French?  - Pas de problème!
Sign up for free
This course is 100% free. We want to show you how fast & easy you can learn with us.
10 words in 10 seconds - 10 mots en 10 secondes




10 flashcards

You already know that:) - Cela tu connais déjà:)




11 flashcards

Questions - Questions




12 flashcards

Polite expressions - Formules de politesse




17 flashcards

People - Personnes




44 flashcards

Activities - Activités




30 flashcards
Why learn French?
Approximately 87 million natives speak French, which makes French one of the most spoken languages in the world. The French language is present as an official language on several continents. In Europe, it is spoken in France, Belgium, Switzerland, Luxembourg, Valle D'Aosta (in Italy) while in America it is present in Canada. In Asia, it is spoken in several contries, such as Algeria, Tunisia e Morocco.
There are many reasons to learn French. Learning how to speak French makes it easier to learn other Romance languages like Spanish, Italian or Romanian since they are languages that derive from Latin, have similar vocabulary and share grammatical rules.
Speaking French contributes to deepening the knowledge of Latin culture by promoting a deeper understanding of its culture and history. You can read books in the native language of the French writer Marcel Proust, or Charles Baudelaire's ones.
How to learn French?
One of the best ways to learn French and the most efficient is with VocApp's flashcards! They contain everything you need in order to learn how to speak French. The pictures, pronunciation and French to English translation will help you understand and remember French phrases easily. This particular course was created by our professional linguists that gathered basic French phrases to help you in a conversation with a native. Here are some reasons to follow this French course right now:
1. Our basic French course was created by professional linguists that gathered all the most important French phrases you need to learn.
2. Multisensory learning will make it super easy to remember the new basic French phrases!
3. The lector will pronounce each basic French word or phrase to teach you how to do it perfectly!
4. The example sentences that include the basic French words will teach you in which circumstances to use this words and how to do that.
5. The course includes courtesy phrases, basic French words about people, questions and activities! You will learn French greetings, such as good morning in French or good day in French beside other important phrases that will help you make a good impression, as have a good day in French. You will also learn to give questions and will know how to ask how are you in French or how was your day in French!
The Spaced Repetition System will form repetitions out of basic French words and phrases that were difficult for you and will help you master them. Proceed to the basic French course right now to prepare for your trip or to impress a native speaker!
Improve your French vocabulary
There is an entire collection of French lessons and courses on our platform! They contain specially picked words and phrases to help you learn French. There is also an entire basic French course dedicated to travelling to French-speaking countries: French for travelling. With it, you will learn how to buy a ticket, order something in a restaurant or ask directions in French. Everything you need in order to learn French is prepared so don't waste time and start learning with VocApp!
---