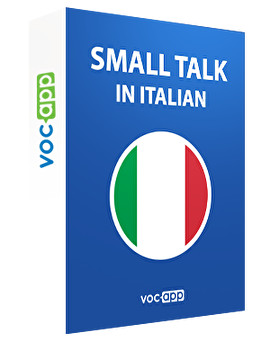 Small talk in Italian
A phrasebook that helps you in every situation!
A large amount of flashcards that will help you in all kind of conversations
From going to a restaurant to having a business presentation - get to know all the necessary words!
Learn both words and sentences and start using them in everyday life
Having hard time finding a right word? Not anymore!
×
Questions?
Create account >

Select the payment method

>

Payment

>

Confirmation of registration
try it for free (30 flashcards)
Get full access
Conversation Starters and Greetings - Iniziare una conversazione e saluti




36 flashcards

Typical Responses - Risposte tipiche




32 flashcards

Talking about the weather - Parlare del clima




44 flashcards

Talking about current events - Informarsi sugli eventi attuali




57 flashcards

At the office - In ufficio




62 flashcards

At a social event - Durante degli eventi




51 flashcards

At a Conference - Ad una conferenza




35 flashcards

Catching up and gossiping - Tenersi aggiornati e chiacchierare




126 flashcards

Show all lessons (15)
If you are not satisfied with the product you have bought, contact us and we will reimburse your money.
Marcin Młodzki
,
board member
(Warsaw, 1st Oct 2018)
VocApp Sp. z o.o.
ul. Mielczarskiego 8/58 | 02-798 Warszawa
TAX NUMBER: PL 951 245 79 19
vocapp@vocapp.com
Address
VocApp Sp. z o.o.
ul. Mielczarskiego 8/58
02-798 Warszawa
NIP: 951 245 79 19
REGON: 369727696
Small talk in Italian
Small talk is a great way to begin conversations in any language. Plenty of social encounters occur day in and day out that are based on small talk and so is the case with Italian. There are plenty of Italian expressions and phrases that you can learn to enhance your Italian vocabulary and get the most out of your daily conversations. As such, if you want to learn Italian vocabulary and improve your Italian pronunciation, learning to conduct small talk in Italian is a must. In this course, you will learn the most common Italian phrases to carry basic exchanges and improve your level of Italian conversation. Learning small talk in Italian is the right way to break the ice in your daily exchanges if you are planning to travel to Italy or any Italian-speaking region in order to study, work or just for fun! Mastering small talk in this language and improving your Italian pronunciation can make your trip to Italy much better if you are able to engage with the locals in their language.
What you will learn in this course
This course includes 15 lessons based on situational dialogues for which you will learn many Italian expressions and acquire lots of new Italian vocabulary related to the following situations:
1. Conversation starters and greetings
2. Asking for help
3. Travelling
4. Meetings
5. At a social event
6. Catching up and gossiping
And plenty more! This course will enrich your learning of Italian vocabulary in such a way that it will be useful and relevant for your daily communicative exchanges. In this sense, you will learn plenty of Italian expressions so that you can form the right sentences and take any informal Italian conversation to the next level. You will also have access to the recordings of all the Italian phrases and expressions so that you can improve your Italian pronunciation and listening abilities. That way you will be giving the right impression to the people you meet thanks to your command of small talk and your perfect Italian pronunciation.
More Italian courses to keep learning
In VocApp, you will find lots of other courses you can take to keep acquiring Italian vocabulary and improving your proficiency in this language. Given the fact that all of the lessons include audios of how the words are spoken, you will be also enhancing your Italian pronunciation as you advance in the courses you choose to do. In this sense, if you are thinking of travelling to Italy, you may also be interested in doing Italian for travelling. Furthermore, a great way to improve your small talk in Italian is to take this course on Everyday phrases in Italian by which you will get plenty of Italian expressions and phrases that can pay off the efforts taken by having magic stay in Italy full of wonderful meetings with people and fantastic experiences.
---