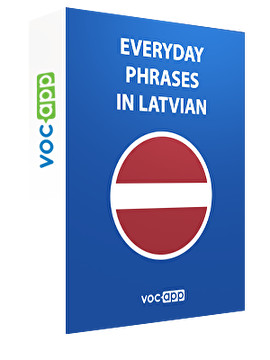 Everyday phrases in Latvian
Now it is easier to start a simple conversation
Do you want to know how to ask something at the shop?
It is possible now thanks to our Latvian phrasebook
Feel confident to start a simple conversation with locals
Master a conversation with Latvians
×
Questions?
Create account >

Select the payment method

>

Payment

>

Confirmation of registration
try it for free (20 flashcards)
Get full access
Greetings, farewells and courtesy phrases - Sasveicināšanās, atvadu un...




20 flashcards

Shopping - Iepirkšanās




20 flashcards

At school - Skolā




19 flashcards

In a bank - Bankā




20 flashcards

In a restaurant - Restorānā




20 flashcards

In an interview - Intervijā




20 flashcards

At work - Darbā




20 flashcards

In a hotel - Viesnīcā




20 flashcards

Show all lessons (26)
If you are not satisfied with the product you have bought, contact us and we will reimburse your money.
Marcin Młodzki
,
board member
(Warsaw, 1st Oct 2018)
VocApp Sp. z o.o.
ul. Mielczarskiego 8/58 | 02-798 Warszawa
TAX NUMBER: PL 951 245 79 19
vocapp@vocapp.com
Address
VocApp Sp. z o.o.
ul. Mielczarskiego 8/58
02-798 Warszawa
NIP: 951 245 79 19
REGON: 369727696
Useful Latvian phrases
Do you want to learn useful Latvian phrases ? We will help you with that. Our Latvian language course is made especially for people who want to learn everyday phrases and be able to communicate in Latvian about basic things. Learn Latvian by the app, and you will remember the phrases better. Thanks to our learning system you will be able to learn to speak Latvian, you will better understand the words of Latvian language. If you are wondering how to learn Latvian, then our flashcards are the perfect solution for you.
Why learn Latvian?
Latvian language, is one of two Baltic languages. Latvian is an Indo-European language that is spoken in the Baltic region, the territory of Latvia. If you have just moved to Latvia, or you are planning to come to work or study, then learn Latvian by the app. The flashcards are very easy, and it helps to memorize words faster. Latvian language is fun to learn when you are using a mobile app. You will find it easy to start a conversation in Latvian, and our study system will teach you how to learn Latvian language pronunciation. The Latvian vocabulary will bring many benefits in the academic and professional fields. You will feel more comfortable while spending your time and living in Latvia. You don't need to look for a translator to translate English to Latvian phrases. Latvian language flashcards are designed to teach you and help you learn the language better. You will quickly learn the basic grammar and new vocabulary. Knowledge of Latvian language will get better every day, and you will feel more confident speaking it. You can have all the useful phrases in your smartphone all the time, and you can use them when you need.
Take a look at our course: Small talk in Latvian
---