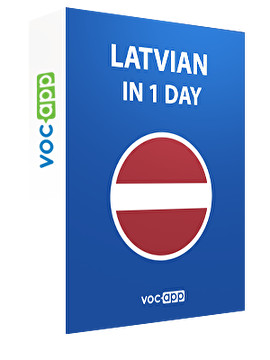 Latvian in 1 day
Learn the basics of Latvian language
Do you want to learn all the most common Latvian phrases?
In one day you can learn how to hold a simple conversation
We will teach simple Latvian phrases that you can use starting from today
Learn the basics of Latvian language and feel confident using them
Sign up for free
This course is 100% free. We want to show you how fast & easy you can learn with us.
10 words in 60 seconds - 10 vārdi 60 sekundēs




10 flashcards

You already know that:) - Tu jau to zini:)




10 flashcards

Questions - Jautājumi




10 flashcards

Courtesy Phrases - Pieklājības frāzes




17 flashcards

People - Cilvēki




28 flashcards

Activities - Darbības




17 flashcards

Untranslatable - Neiztulkojamie vārdi




10 flashcards
Learn Latvian by app
Are you thinking to learn Latvian, but you don't have the time to attend courses? To learn Latvian by the app is very useful for busy people because you can use the app everywhere and anytime, you only need a smartphone. You will learn by our Latvian flashcards that will help you . Try out our system and learn the first Latvian language phrases today, you will learn how to say thank you in Latvian and how to pronounce Latvian words . If you are wondering how long to learn Latvian, then we will give you a lesson which will help you to learn basic phrases in one day. Thanks to our flashcard system you will learn Latvian faster. It is the fastest way to teach yourself Latvian .
Why learn Latvian?
Latvian language, is one of two Baltic languages. Latvian is an Indo-European language that is spoken in the Baltic region, the territory of Latvia If you have just moved to Latvia, or you are planning to come for work or studies, to learn Latvian by app is the best choice. You can decide where and when to learn Latvian. Latvian language phrases are fun to learn using mobile app. You will find a simple conversation easy to start when you get to know the basic Latvian phrases. Latvian language will become easier to understand when you have an app that you can check time by time to memorize Latvian words. You will learn to pronounce Latvian words, and you will feel more confident saying basic phrases in Latvian. Moreover, Latvia has a unique culture and history. The Latvian vocabulary will bring many benefits in the academic and professional fields.You will feel more comfortable while spending your time and living in Latvia. You don't need to look for a translator to translate English to Latvian phrase like "where is the closest shop?" because you will find all the useful phrases in our flashcards. So start with Latvian basics, and soon you will know more.
Continue with our course: Latvian: day 2
---