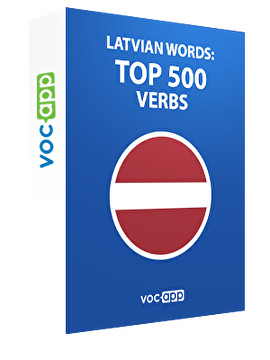 Latvian Words: Top 500 Verbs
Learn the most useful verbs in Latvian
Learn the most useful verbs in Latvian
Do you want to understand what means "iet" and when Latvians use it?
Start this course, and you will learn verbs that Latvians often use
Learn with VocApp and improve your Latvian language skills
×
Questions?
Create account >

Select the payment method

>

Payment

>

Confirmation of registration
try it for free (20 flashcards)
Get full access
Top 500 Latvian verbs 1 - 50




50 flashcards

Top 500 Latvian verbs 51 - 100




50 flashcards

Top 500 Latvian verbs 101 - 150




50 flashcards

Top 500 Latvian verbs 151 - 200




50 flashcards

Top 500 Latvian verbs 201 - 250




50 flashcards

Top 500 Latvian verbs 251 - 300




50 flashcards

Top 500 Latvian verbs 301 - 350




50 flashcards

Top 500 Latvian verbs 351 - 400




50 flashcards

Show all lessons (10)
If you are not satisfied with the product you have bought, contact us and we will reimburse your money.
Marcin Młodzki
,
board member
(Warsaw, 1st Oct 2018)
VocApp Sp. z o.o.
ul. Mielczarskiego 8/58 | 02-798 Warszawa
TAX NUMBER: PL 951 245 79 19
vocapp@vocapp.com
Address
VocApp Sp. z o.o.
ul. Mielczarskiego 8/58
02-798 Warszawa
NIP: 951 245 79 19
REGON: 369727696
Learn the most common Latvian verbs
If you're planning a trip to Latvia and need to learn Latvian, here is a course that can help you get ready by learning the most common Latvian verbs. Learning the Latvian language can be quite convenient, especially if you intend to visit the country where it originated, as the language of Latvia is currently spoken mainly by its native-language speakers and about 700000 foreigners that also live there, coming mostly from nearby countries such as Russia, Ukrania, Belarus and Poland. Learning Latvian is also quite interesting from a linguistic perspective; since the Latvian language, currently protected from extinction by the Latvian law, is one of the oldest Indo-European languages that remains extant as of today and which still feature traits from the Proto-Indo-European language, learning Latvian can help you discover more characteristics about this group of languages. It might not be easy to learn Latvian, but this course with the most frequent verbs used daily can help you lay a foundation with the Latvian language.
Travel to Latvia
There are plenty of things to do in Latvia. In Latvia's capital , Riga, you can visit the Central Market , which is one of the biggest in Europe where you can choose from a wide selection of local ingredients and enjoy Latvian food . Latvia is also ideal for green travellers , as more than half of its surface is covered with forests. You can also visit the largest waterfall in Europe, that is, the Venta rapid in the region of Kuldiga , and enjoy the views there while breathing fresh air. Latvia is filled with national reserves, natural parks, lakes, rivers and a extensive coastline that includes almost 500 kilometres of beaches along the Baltic Sea. You can also enjoy many of Latvia's cultural attractions and dig into Latvia's folk music tradition as you learn the official language of Latvia and dive into the country's richness and its cultural heritage.
These Latvian language flashcards to learn Latvian about Latvian Words: Top 500 verbs will provide you with:
1. Most frequently used verbs
2. Examples to understand the different connotations the use of a verb might entail
3. Word pronunciation
4. Spaced repetition to better memorize words
5. Term accuracy
So, what are you waiting for? Learn Latvian with us!
More Latvian language courses
If you want to continue to learn Latvian or learn about other aspects of the Latvian language, you might be interested in Everyday Phrases in Latvian in order to learn frequent sentences used in daily Latvian.
---