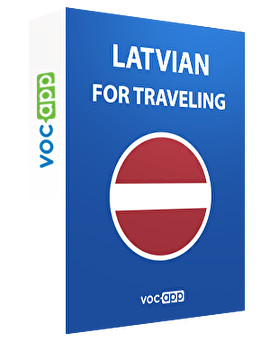 Latvian for travelling
Planning to visit Latvia soon? Learn the most useful vocabulary now!
Over 400 Latvian words and phrases to travel by plane, train, ferry, etc.
Bonus lessons with tips to use when visiting Latvia
Fast and efficient learning with Spaced Repetition System
Best trip preparation with VocApp's fun course
×
Questions?
Create account >

Select the payment method

>

Payment

>

Confirmation of registration
try it for free (20 flashcards)
Get full access
Plane - Ceļojot ar lidmašīnu




45 flashcards

Car - Ceļojot ar automašīnu




39 flashcards

Hitchhiking - Ceļojot ar autostopu




10 flashcards

Long-distance bus - Ceļojot ar tālsatiksmes autobusu




24 flashcards

City bus - Ceļojot ar pilsētas autobusu




17 flashcards

Train - Ceļojot ar vilcienu




33 flashcards

Ferry - Ceļojot ar prāmi




10 flashcards

Hiking - Dodoties pārgājienā




26 flashcards

Show all lessons (20)
If you are not satisfied with the product you have bought, contact us and we will reimburse your money.
Marcin Młodzki
,
board member
(Warsaw, 1st Oct 2018)
VocApp Sp. z o.o.
ul. Mielczarskiego 8/58 | 02-798 Warszawa
TAX NUMBER: PL 951 245 79 19
vocapp@vocapp.com
Address
VocApp Sp. z o.o.
ul. Mielczarskiego 8/58
02-798 Warszawa
NIP: 951 245 79 19
REGON: 369727696
Baltic wonderland!
The Baltic states have been waiting for you to visit and you chose Latvia! You will have a great time in this Baltic country. A small country with a small population but with plenty of things to do you won't be bored in Latvia. Walking around the old city of the Riga is always pleasant or maybe you prefer to hike around the many forests and national parks in the country or even take a stroll on its sandy beaches. It's all waiting for you!
Your plans to visit Latvia are almost done but you still need to learn some Latvian! Even though English is widely spoken it doesn't hurt to learn some Latvian language before going. Our Latvian language course will make your visit to Latvia a piece of cake.
Latvian vocabulary you need to know
1. If you visit Latvia during summer you'll have to know how to ask where is the beach in Latvian.
2. If you visit Latvia during winter you need to know how to ask to rent skiing equipment in the Latvian language.
3. Maybe you're walking through one of their quaint cities and need to ask a stranger where the closest restroom is in their Baltic language.
4. What if you're at a restaurant tasting some Latvian cuisine and need to ask for the check? What will you do without this Latvian language course for tourism?
5. By the end of your trip, you will surely want to buy a nice Latvian made liquor or souvenir so start this Latvian course for tourism purposes and you will know how to persuade for lower prices at shops.
Don't worry or panic, our Baltic language course is designed to make your trip an easy and memorable one!
Latvian made easy!
This Latvian language course was designed by Latvian experts therefore; you will definitely learn the most important words and phrases. VocApp has an easy to use design as well as a sure-fire way to help you learn Latvian! Not only will you get spelling and illustration of the word or phrase but also the pronunciation, this combination will make it easy to remember!
You are being very smart by preparing yourself with some Latvian knowledge before you visit! If you want to feel wiser and strike up a conversation with a native speaker then try this next course - Small talk in Latvian.
---