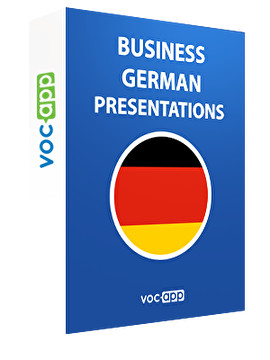 Business German - Presentations
A practical course for everyone holding presentations in German
Would you like to prepare for you business presentation or you need to give a speech in German? You have come to the right place!
Learn commonly used vocabulary and expressions which make your presentation appealing to your audience
Make sure that each part of your presentation is professional and well-structured
Appeal to your audience and encourage them to ask questions and express their opinions
×
Questions?
Create account >

Select the payment method

>

Payment

>

Confirmation of registration
try it for free (20 flashcards)
Get full access
Introduction - Einführung




13 flashcards

Topic - Thema




14 flashcards

Giving the outline of your presentation - Darstellung der wichtigsten ...




24 flashcards

Introducing your first main point - Zu Beginn der Presentätion




11 flashcards

Referring to research - Bezug auf Ergebnisse der Forschungen nehmen




12 flashcards

Referring to visual data - Darstellung der Grafiken




12 flashcards

Presenting a point of view - Darstellung eines Standpunktes




15 flashcards

Emphasising important point - Betonung von einem wichtigen Punkt




11 flashcards

Show all lessons (23)
If you are not satisfied with the product you have bought, contact us and we will reimburse your money.
Marcin Młodzki
,
board member
(Warsaw, 1st Oct 2018)
VocApp Sp. z o.o.
ul. Mielczarskiego 8/58 | 02-798 Warszawa
TAX NUMBER: PL 951 245 79 19
vocapp@vocapp.com
Address
VocApp Sp. z o.o.
ul. Mielczarskiego 8/58
02-798 Warszawa
NIP: 951 245 79 19
REGON: 369727696
---