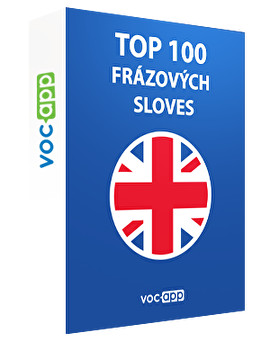 Top 100 frázových sloves
Ovládni angličtinu!
Slovíčka umíš, ale frázová slovesa ti stále dělají problém?
S námi se to stane minulostí!
V našem jedinečném kurzu najdeš seznam 100 nejpoužívanějších frázových sloves, díky kterým budeš mluvit jako rodilý mluvčí
Nauč se slovesa, díky kterým se budeš vyjadřovat snadněji, rychleji a přirozeněji
Sign up for free
This course is 100% free. We want to show you how fast & easy you can learn with us.
Top 100 Frázových Sloves 1 - 25 - Top 100 Phrasal verbs 1 - 25




24 flashcards

Top 100 Frázových Sloves 26 - 50 - Top 100 Phrasal verbs 26 - 50




25 flashcards

Top 100 Frázových Sloves 51 - 75 - Top 100 Phrasal verbs 51 - 75




25 flashcards

Top 100 Frázových Sloves 76 - 100 - Top 100 Phrasal verbs 76 - 100




25 flashcards
---