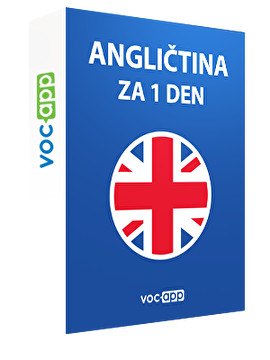 Angličtina za 1 den
Nauč se nejzákladnější anglické výrazy snadno a rychle!
Začni se učit jeden z nejrozšířenějších světových jazyků
Angličtinou se dnes domluvíš téměř všude, proto ji určitě využiješ
Neboj se anglické výslovnosti, naše nahrávky ti ji pomohou zvládnout
Procvič si základní slovíčka a fráze v jednom kurzu
Sign up for free
This course is 100% free. We want to show you how fast & easy you can learn with us.
10 slov v 60 sekundách - 10 words in 60 seconds




10 flashcards

Tohle už znáš:) - You already know that:)




10 flashcards

Otázky - Questions




10 flashcards

Zdvořilostní fráze - Courtesy Phrases




17 flashcards

Lidé - People




28 flashcards

Aktivity - Activities




17 flashcards

Nepřeložitelné - Untranslatable




6 flashcards
---