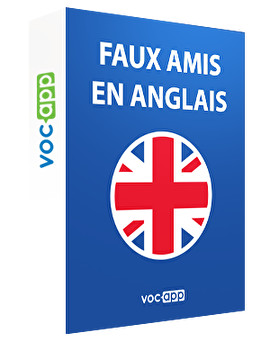 Faux amis en anglais
Les faux amis ne te causeront plus de problèmes !
Issue vs issue, lunatique vs lunatic... Tu te sens perdu ? Permets-nous de t'aider !
Plus de 100 faux amis franco-anglais
Apprends mieux grâce aux exemples qui t'aideront à comprendre les sens des mots
Sois plus à l'aise avec l'anglais et ne commets plus d'erreurs typiquement françaises !
Sign up for free
This course is 100% free. We want to show you how fast & easy you can learn with us.
Faux amis en français 1 - 25




25 flashcards

Faux amis en français 26 - 50




25 flashcards

Faux amis en français 51 - 75




25 flashcards

Faux amis en français 76 - 100




25 flashcards

Faux amis en français 101 - 125




25 flashcards
---