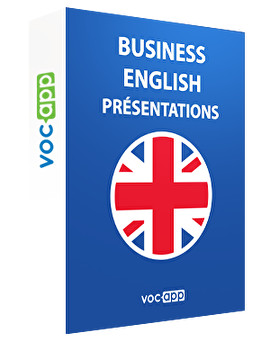 Business English - Présentations
Maîtrise ton anglais des affaires !
Apprends comment faire des présentations impeccables en anglais !
Gagne en confiance avec le vocabulaire grâce auquel tu sauras toujours te présenter
Nous te proposons aussi les phrases qui vont te servir dans les moments de doute ou de trouble
N'attends plus, l'anglais avancé est à portée de ta main !
×
Questions?
Create account >

Select the payment method

>

Payment

>

Confirmation of registration
try it for free (20 flashcards)
Get full access
Introduction - Introduction




13 flashcards

Sujet - Topic




14 flashcards

Annoncer le plan de la présentation - Giving the outline of your prese...




24 flashcards

Introduire la première grande partie - Introducing your first main point




11 flashcards

Faire références à la recherche - Referring to research




12 flashcards

Faire références à des données visuelles - Referring to visual data




12 flashcards

Présenter un point de vue - Presenting a point of view




15 flashcards

Souligner les points importants - Emphasising important point




11 flashcards

Show all lessons (23)
If you are not satisfied with the product you have bought, contact us and we will reimburse your money.
Marcin Młodzki
,
board member
(Warsaw, 1st Oct 2018)
VocApp Sp. z o.o.
ul. Mielczarskiego 8/58 | 02-798 Warszawa
TAX NUMBER: PL 951 245 79 19
vocapp@vocapp.com
Address
VocApp Sp. z o.o.
ul. Mielczarskiego 8/58
02-798 Warszawa
NIP: 951 245 79 19
REGON: 369727696
---