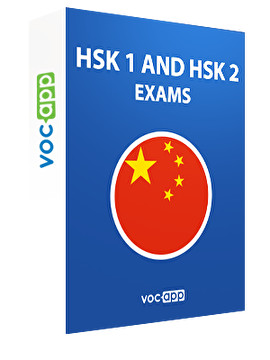 HSK 1 and HSK 2 Exams
Study the basis of Chinese with VocApp
Interested in having a simple conversation in Chinese? Now you can!
HSK is the Chinese Proficiency Test, with one and two you can have the A2 chinese level
Now understanding a native chinese speaker is very easy!
Start today and learn the basics of chinese
×
Questions?
Create account >

Select the payment method

>

Payment

>

Confirmation of registration
try it for free (20 flashcards)
Get full access
If you are not satisfied with the product you have bought, contact us and we will reimburse your money.
Marcin Młodzki
,
board member
(Warsaw, 1st Oct 2018)
VocApp Sp. z o.o.
ul. Mielczarskiego 8/58 | 02-798 Warszawa
TAX NUMBER: PL 951 245 79 19
vocapp@vocapp.com
Address
VocApp Sp. z o.o.
ul. Mielczarskiego 8/58
02-798 Warszawa
NIP: 951 245 79 19
REGON: 369727696
More about the HSK test
The HSK test is a standardized Chinese proficiency test that assesses the ability to speak Chinese for professional and academic purposes. There are more HSK levels, starting from I to VI. There is also an HSK test for speaking that assesses the ability to speak in Chinese, having three levels: primary, intermediate and advanced. The development of the HSK test started in 1984 and today, hundreds of countries accept the test and over 100 million people took the HSK test. This Chinese test is administered in Mandarin and the paper-based HSK test lets the assignments choose whether they want to write with traditional or simplified characters. The structure of the HSK test consists of Listening, Writing and Reading parts that have a maximum score of 100 each. It takes a month to receive the HSK test results after the paper-based test and 2 weeks after the computer-based test. HSK 1 and 2 correspond to the A1 and A2 levels, HSK 3 and 4 correspond to the B1 and B2, while HSK 5 and 6 correspond to the C1 and C2 CEFR levels. If you want to take such a Chinese test, you have to find a test center near you, choose a date and register in advance.
How to prepare for the HSK test to get the highest HSK level?
It is crucial to use practice tests and exercises before the test. Also, if you feel like you lack vocabulary, it's great to find vocabulary lists and learn the main words to be prepared for the HSK test. Our flashcard course will prepare you for the HSK 1 and HSK 2 test, teaching you the most important vocabulary for these HSK levels. You will also hear the pronunciation in Chinese in order to learn how to pronounce the word correctly. Moreover, each word comes with an example sentence that will teach you how to use the word. Here are some examples of words that you will learn using this Chinese course:
1. 老师 = teacher
2. 妈妈 = mother
3. 买 = to buy
4. 明天 = tomorrow
5. 哪儿? = Where?
More courses for the HSK test
If you want to continue preparing for your Chinese test and to achieve a higher HSK level, we have professional vocabulary courses prepared for that. Take a look at the HSK 3 Exam course that includes 600 of the most important words for the third level of the HSK test and continue with the HSK 4 Exam course to learn even more advanced vocabulary. You will significantly improve your understanding of Chinese and will enhance your vocabulary. Prepare for the HSK test with VocApp and achieve great results!
---