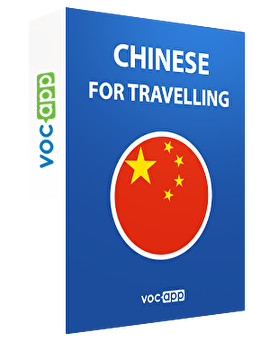 Chinese for travelling
Make your trip to China easier! Learn Chinese & travel stress-free!
Are you planning to visit the country of pandas? This course is the guide you need!
Do you want to have a trip on the road? We teach you what you need to know to rent a car
Learn how to reserve a taxi, check in and check out from the hotel or how to order delicious food
Break down the language barrier and discover China in all its beauty!
×
Questions?
Create account >

Select the payment method

>

Payment

>

Confirmation of registration
try it for free (20 flashcards)
Get full access
At the airport - 在飞机场




77 flashcards

At the restaurant - 在餐馆




50 flashcards

Driving the car - 开车




56 flashcards

Hitchhiking - 搭便车




7 flashcards

Transports - 交通




54 flashcards

Hiking - 爬山




25 flashcards

Travel agency - 旅行社




36 flashcards

Embassy - 大使馆




14 flashcards

Show all lessons (13)
If you are not satisfied with the product you have bought, contact us and we will reimburse your money.
Marcin Młodzki
,
board member
(Warsaw, 1st Oct 2018)
VocApp Sp. z o.o.
ul. Mielczarskiego 8/58 | 02-798 Warszawa
TAX NUMBER: PL 951 245 79 19
vocapp@vocapp.com
Address
VocApp Sp. z o.o.
ul. Mielczarskiego 8/58
02-798 Warszawa
NIP: 951 245 79 19
REGON: 369727696
Chinese for travelling
Are you going to travel to China and want to learn how to speak chinese before you go? Well, it will not be easy, but we at VocApp have prepared a course called Chinese for travelling to help you discover China.
When you are travelling to China it is best to be prepared and know a lot of chinese vocabulary. Whether you are in the restaurant or at the airport, learn all the chinese vocabulary you need to travel to China.
Planning a trip to China
Are you planning a trip to China and are looking for a Chinese learning app that can help you translate english to chinese while helping you find new places to visit in China?
VocApp is the best Chinese learning app to help you know more about the Chinese culture at the same time you discover China. While planning a trip to China, learn how to say more that just 'thank you' in Chinese and become the greatest traveler!
Places to visit in China
This course of VocApp Chinese for travelling is made for you to learn expressions that can help you socialize and communicate with people in China while you are travelling.
At VocApp we created the best Chinese learning app for you to know how to translate English into Chinese and that allows you to travel to China and have enough chinese vocabulary to communicate with others!
With our course you will have a special lesson dedicated to you who wants to discover China. You will find many tips of places to visit in China like Shanghai, the most developed metropolis in Mainland China, or Xi'an, one of the oldest cities.
And if you want to improve your Chinese vocabulary even more, here you have it! 1000 Most Important Chinese words.
---