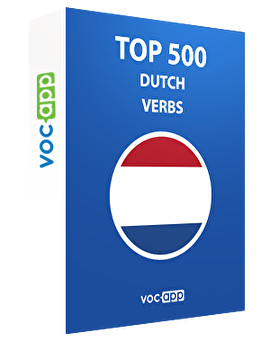 Top 500 Dutch verbs
All the most important Dutch verbs in one course!
Become a master of verbs in Dutch and express yourself like never before
This course comes with definitions and usable everyday examples which makes for a surefire way to achieve fluency
With this course it will be a walk in the park saying words like "vertegenwoordigen"!
Thanks to the repetition you'll memorize faster and also learn the pronunciation of the word!
×
Questions?
Create account >

Select the payment method

>

Payment

>

Confirmation of registration
try it for free (20 flashcards)
Get full access
Top 500 Dutch verbs 1 - 50




50 flashcards

Top 500 Dutch verbs 51 - 100




50 flashcards

Top 500 Dutch verbs 101 - 150




50 flashcards

Top 500 Dutch verbs 151 - 200




50 flashcards

Top 500 Dutch verbs 201 - 250




50 flashcards

Top 500 Dutch verbs 251 - 300




50 flashcards

Top 500 Dutch verbs 301 - 350




50 flashcards

Top 500 Dutch verbs 351 - 400




50 flashcards

Show all lessons (10)
If you are not satisfied with the product you have bought, contact us and we will reimburse your money.
Marcin Młodzki
,
board member
(Warsaw, 1st Oct 2018)
VocApp Sp. z o.o.
ul. Mielczarskiego 8/58 | 02-798 Warszawa
TAX NUMBER: PL 951 245 79 19
vocapp@vocapp.com
Address
VocApp Sp. z o.o.
ul. Mielczarskiego 8/58
02-798 Warszawa
NIP: 951 245 79 19
REGON: 369727696
Learn Dutch online: is it possible?
Dutch, so-called Flemish (Belgium) and Nerderlandic (Netherland) belongs to West Germanic language and is being spoken in Holland and Flanders region of Belgium. With 22 millions speakers of Dutch language as their mother tongue, Dutch is also the official language of Netherland and Belgium as well as several countries in the world: Aruba, Curacao or Suriname, which used to be Netherland's colony. There is also another language derived from Dutch, Afrikaans. This is the official language in South Africa, also a previous colony. There are more and more international students and workers in Dutch-spoken countries, that's the reason why there is an increase in people deciding to learn Dutch. How about you? Would you like to learn Dutch online and seize your chance to go to Belgium, Netherland or another Dutch spoken country? Here we are to help you! VocApp offers you an interesting course to learn Dutch online here. Learn Dutch online: top 500 verbs to support you on your way of learning Dutch from the beginning! Let's begin to learn Dutch online from today!
Method to learn Dutch online quickly
Learn Dutch using things that surround you in the real world. For example, when you see a lovely cat running in the garden, just think of how to describe the cat in Dutch and get some new word! To support you, VocApp will provide a daily list of verbs to learn Dutch online through flashcards, an effective method to learn new vocabulary which is applied by millions of language learners all over the world. Each flashcard includes a verb in Dutch so as to learn Dutch online every day, every time and everywhere. Besides the words, each flashcard also gives you pronunciation guide, attractive image and real examples in order to help you answer the question of how to learn Dutch online effectively.
Learn more Dutch online!
Just enjoy Dutch with us! This course with 500 common verbs was prepared for you to learn Dutch online; moreover, you can make thousands of sentences together with Dutch adjectives and nouns. Therefore, we also create more courses about Dutch adjectives, nouns and more! Enhance your Dutch by using other Dutch courses on VocApp, for example, the course Most common Dutch words. Become a Dutch speaker as fast as you can! Try to learn some interesting verbs below in the Dutch language with us:
1.go = gaan
2. run = rennen
3. walk = wandelen
4. jump = springen
5. step = stappen
---