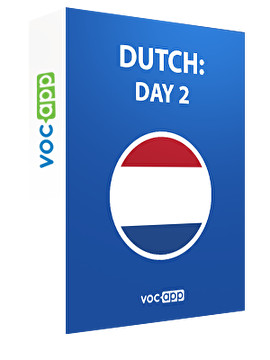 Dutch: day 2
Take the next step in your journey!
Understand more and more Dutch words with VocApp
Become much more than just a beginner in Dutch
Get to know some useful expressions and basic grammar
Have a better ear for Dutch than Van Gogh had ;)
×
Questions?
Create account >

Select the payment method

>

Payment

>

Confirmation of registration
try it for free (20 flashcards)
Get full access
Untranslatable - De onvertalbare dingen




10 flashcards

Things - Voorwerpen




36 flashcards

And, or, but, so... - En, of, maar, dus...




20 flashcards

Grammar - De grammatica




27 flashcards

Space - De ruimte




31 flashcards

Useful expressions - Bruikbare uitdrukkingen




23 flashcards

Attributes - Eigenschappen




29 flashcards

Time - De tijd




26 flashcards

Show all lessons (12)
If you are not satisfied with the product you have bought, contact us and we will reimburse your money.
Marcin Młodzki
,
board member
(Warsaw, 1st Oct 2018)
VocApp Sp. z o.o.
ul. Mielczarskiego 8/58 | 02-798 Warszawa
TAX NUMBER: PL 951 245 79 19
vocapp@vocapp.com
Address
VocApp Sp. z o.o.
ul. Mielczarskiego 8/58
02-798 Warszawa
NIP: 951 245 79 19
REGON: 369727696
Reasons to learn Dutch
Dutch is a Germanic language spoken by almost 30 million people in the world. The majority of the native speakers come from the Netherlands and Belgium. Dutch has many lexical similarities with other Germanic languages as German and English. If you plan to travel to the Netherlands and want to impress the natives, it would be great to learn some basic Dutch and the Dutch pronunciation to show interest in their language and culture. Learning Dutch phrases will also be very useful outside the Netherlands, in Belgium, Suriname and other countries. Moreover, learning Dutch phrases will not be so difficult since you know English! Basic Dutch will help you learn more about the Dutch culture and traditions, typical humor and interesting sayings because knowing some Dutch phrases will allow you to interact with the locals. You will also need to learn some Dutch phrases and Dutch words if you're planning to find a job in the Netherlands. Although it's not difficult to find a job in English and most people speak it, it will interest your future employee. Continue reading to discover why our method to learn Dutch phrases is one of the most effective!
How to learn Dutch
The flashcards are a great and effective way to learn Dutch phrases and words. Learning with flashcards is more than just looking at a text, seeing the front side of a flashcard makes you think of the backside and this engages the so-called active recall principle. Moreover, repeating the flashcard will improve the knowledge of the Dutch phrases and words from this course. Our Spaced Repetition System will choose the hardest words and phrases of basic Dutch and form repetitions. This will allow you to remember the Dutch phrases forever. There are many more special features on our platform. For example, the flashcards include the Dutch pronunciation and the Dutch to English translation. You can download the course as a text or audio file, you can create your own flashcard lessons with Dutch phrases you want to remember.
About this basic Dutch course
This basic Dutch course includes Dutch words and useful Dutch phrases on different topics. Here are some of the things you will learn with this basic Dutch course:
1. How to talk about time and space in Dutch
2. The basic Dutch grammar
3. Useful expressions in Dutch
4. Untranslatable Dutch words along with their explanations
5. The verbs be and have in Dutch
This course is a continuation of the course Dutch in 1 day. It includes polite expressions, activities, and questions in Dutch and much more basic Dutch vocabulary! Make sure you will take a look at this course in order to learn even more Dutch words and phrases! Also, the course Top 1000 Dutch Words might interest you if you want to learn Dutch on a more advanced level!
---