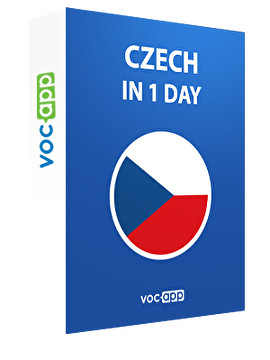 Czech in 1 day
Learn Czech basics with VocApp!
Do you want to learn a Slavic language? Start with Czech!
Czech language might not be the most broadly used one but definitely has its merits
Not only that you will learn the language of the country in the middle of Europe but by understanding one Slavic language, you will get quite good insight into the others as well
Don't be scared of pronunciation, our audio records will help you with that
Sign up for free
This course is 100% free. We want to show you how fast & easy you can learn with us.
10 words in 60 seconds - 10 slov v 60 sekundách




10 flashcards

You already know that:) - Tohle už znáš:)




10 flashcards

Questions - Otázky




10 flashcards

Courtesy Phrases - Zdvořilostní fráze




17 flashcards

People - Lidé




28 flashcards

Activities - Aktivity




17 flashcards

Untranslatable - Nepřeložitelné




10 flashcards
Why you should learn Czech
You have always had a passion for languages and want to take up a new challenge? Then learning Czech might just be it! Even though it is quite unlikely that you will have to speak Czech outside of the Czech Republic, there are still numerous reasons why you should learn Czech, especially when you can do so online!
If you ever want to travel to the Czech Republic, learning Czech might come in handy, mostly because other than in Prague, timetables, signs and other useful information are usually in Czech
Even though you might think that everybody speaks English nowadays, that is still not entirely true! So, if you ever go to the Czech Republic and don't speak Czech you might be in for a quite unpleasant surprise
Learning Czech will allow you to more easily learn other Slavic languages such as Slovak or Polish
If you plan to move to the Czech Republic and permanently live there, learning Czech will help you integrate and better understand the culture
Learning Czech will definitely improve your chances of finding a job in the Czech Republic
Don't deprive yourself of the beauty that lies beyond the city limits of Prague and start learning Czech!
Learn basic Czech vocabulary
The Czech in 1 day course will allow you to learn basic Czech vocabulary and thus start your journey with this amazing Slavic language! This course will allow you to learn basic Czech words that might come in handy during everyday conversations, as well as sentences often used by the natives. This course will not make you fluent, but it is definitely a good start! Being able to write in Czech is great, but a language is made to be spoken which is why VocApp made sure to provide audio recordings with the correct pronunciation of each word. Thanks to our spaced repetition algorithm, you won't forget to revise the Czech words you already learned. VocApp will help you to remain dedicated all throughout this Czech in 1 day course. Learning Czech is definitely not an easy task, but VocApp will help you achieve your goal!
Become fluent in Czech
You've mastered the Czech in 1 day course and want to further expand your vocabulary? VocApp is the perfect platform to learn Czech online. Our professional linguists prepared diverse courses in Czech, which will help you master the language! Why don't you take a look?
---