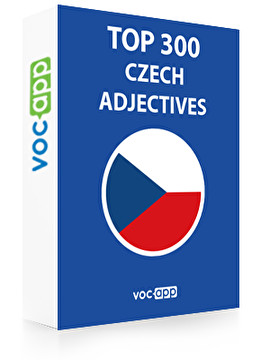 Czech Words: Top 300 Adjectives
Take your Czech to the next level!
Expand your vocabulary and boost your confidence
Learn vocabulary in context thanks to sample sentences
Remember faster thanks to images
×
Questions?
Create account >

Select the payment method

>

Payment

>

Confirmation of registration
try it for free (20 flashcards)
Get full access
300 most important Czech adjectives 1 - 25




25 flashcards

300 most important Czech adjectives 26 - 50




25 flashcards

300 most important Czech adjectives 51 - 75




25 flashcards

300 most important Czech adjectives 76 - 100




25 flashcards

300 most important Czech adjectives 101 - 125




25 flashcards

300 most important Czech adjectives 126 - 150




25 flashcards

300 most important Czech adjectives 151 - 175




25 flashcards

300 most important Czech adjectives 176 - 200




25 flashcards

Show all lessons (12)
If you are not satisfied with the product you have bought, contact us and we will reimburse your money.
Marcin Młodzki
,
board member
(Warsaw, 1st Oct 2018)
VocApp Sp. z o.o.
ul. Mielczarskiego 8/58 | 02-798 Warszawa
TAX NUMBER: PL 951 245 79 19
vocapp@vocapp.com
Address
VocApp Sp. z o.o.
ul. Mielczarskiego 8/58
02-798 Warszawa
NIP: 951 245 79 19
REGON: 369727696
Reasons to learn Czech
Czech language is a special language and is definitely worth learning. Here are some of the reasons why we think you should start learning Czech right now:
1. You will know how to order a beer in a pub in the beautiful Prague. What can be better than that?
2. You will have to learn Czech at least on a basic level to travel outside the capital. Not many people speak English in Czech Republic, that's why it is so important to learn Czech words so that you'll be able to communicate with others.
3. Learning Czech can bring you a job in a beautiful country. You don't need to know advanced Czech, it's enough to demonstrate your respect and interest and that would be a huge plus.
4. The Czech language is a Slavic language which means that learning Czech will help you if you plan to learn Polish, Slovak or Russian. The best thing about it is that it uses Latin alphabet so it will be easier to learn than Russian.
5. Learning Czech is a great brain exercise!
We hope we motivated and inspired you to want to learn more about this unique language! Now it's time to chose the best way to learn Czech and we can help here too!
How to learn Czech?
One of the most effective ways to learn a language is by using flashcards. Not only they make learning Czech easier but also make it very interesing and fun. Our linguists created special Czech courses that will teach you everything you want to know about Czech, whether it's basic Czech words, full vocabulary lists, phrases for travelling and much more. This course was prepared especially for you to learn common adjectives. These common adjectives are very important because they allow you to describe something in Czech. If you will be asked what kind of drink do you want, what clothing do you prefer and so on, you will know enough common adjectives to describe these things in detail. Our linguists picked the most important and useful Czech adjectives and included them in one course. This way, you will learn all the Czech words you need and find them in one place. You will easily remember them thanks to the pictures of the flashcards that represent the Czech words, the Czech to English translations, example sentences and of course - the Czech pronunciation of the common adjectives. The Spaced Repetition System will detect the difficult Czech words and prepare repetitions, so that you will review the hardest of the common adjectives to repeat them until you'll remember them.
Improve your Czech vocabulary
The common adjectives are just a part of your Czech language vocabulary. Czech adjectives are indispensable but you can not rely on these Czech words only and think they'll make you speak Czech right-away. Each sentence needs a noun or pronoun and a verb to be complete. That is why, we prepared two other courses of important Czech words. They will teach you the most frequently used and the most important nouns and verbs in Czech language. They will complete your knowledge of Czech adjectives and help you master this language. Take a look at them in order to enrich you Czech language vocabulary:
Czech Words: Top 1000 Nouns.

Explore our site for more interesting courses and download our app to learn Czech on the go!
---