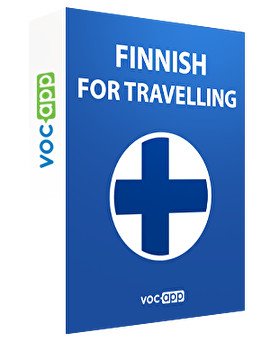 Finnish for travelling
Get ready to travel to the country of thousand lakes!
Learn useful Finnish phrases and words for travelling
Familiarise yourself with vocabulary for restaurants, bus stations, airports…
Feel more confident during your trip!
Example sentences will show you how to use the words
×
Questions?
Create account >

Select the payment method

>

Payment

>

Confirmation of registration
try it for free (19 flashcards)
Get full access
Plane - Lentokone




44 flashcards

Car - Auto




37 flashcards

Hitchhiking - Liftaaminen




10 flashcards

Long-distance bus - Kaukoliikenteen linja-auto




22 flashcards

City bus - Lähiliikenteen linja-auto




17 flashcards

Train - Juna




31 flashcards

Ferry - Lautta




10 flashcards

Hiking - Vaellus




26 flashcards

Show all lessons (16)
If you are not satisfied with the product you have bought, contact us and we will reimburse your money.
Marcin Młodzki
,
board member
(Warsaw, 1st Oct 2018)
VocApp Sp. z o.o.
ul. Mielczarskiego 8/58 | 02-798 Warszawa
TAX NUMBER: PL 951 245 79 19
vocapp@vocapp.com
Address
VocApp Sp. z o.o.
ul. Mielczarskiego 8/58
02-798 Warszawa
NIP: 951 245 79 19
REGON: 369727696
Visit Finland
Around 6 million people visit Finland yearly and many of them want to learn some Finnish phrases before the trip to the country. This will help you in many situations, you will be able to make many new friends and socialize, discover the culture from within and make travelling easier and more comfortable. In order to motivate you to learn the Finnish phrases of this course, let's recall some of the reasons why people visit Finland and why you need to prepare in advance:
1. You will be able to make an order at a restaurant in Helsinki, the main tourist attraction in Finland.
2. You can express yourself while travelling to smaller cities or places where not all people speak English, for example when visiting the Artic Circle.
3. Finland is the perfect place to see the Northern Light. Many people travel to Finland exactly for this reason.
4. If you will learn some Finnish phrases, you will impress the locals while visiting the oldest towns in the country - Turku and Porvoo.
5. Finland is a great country to experience a bond with nature. The Lemmenjoki National Park is a perfect place to do that, its wilderness and beautiful sceneries will be a great memory.
6. You will be able to learn more about Hämeenlinna and Tavastehus Castle.

Learn Finnish phrases

An effective way to learn Finnish phrases is with flashcards because they contain all the information you need to understand and remember a word. Our professional linguists created this course that contains only the most useful Finnish phrases for your trip. There are 16 lessons in this course with Finnish phrases based on the means of transport you're travelling with or the places where you'll need to know some Finnish phrases. You will learn Finnish phrases for the embassy, phrases to use at a restaurant, while travelling by ferry or when staying in the mountains. Download the course as a text or audio file to learn the Finnish travel vocabulary on the go! Choose the learning mode that fits you and repeat the Finnish phrases until you'll remember them forever!

Finnish resources

If you want to learn some interesting Finnish phrases, take a look at the Finnish idioms course. If you don't know what "to lift the cat on the table" or other fun idioms mean, it'll be great for you to learn them and impress the locals! We have several courses to learn Finnish at a more advanced level, for example, the course Top 1000 Finnish words that includes 1000 most commonly used Finnish words. Learning them will allow you to form your own Finnish phrases and sentences. Study with VocApp at least 5 minutes a day and you'll remember up to 90% of the Finnish phrases and words!
---