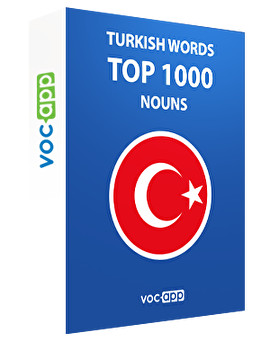 Turkish Words: Top 1000 Nouns
Take your Turkish to the next level!
Improve your fluency thanks to the list of the most popular verbs
Do you want to order your kebab in its original language?
Improve greatly your Turkish
Bargain in Turkish when spending your time shopping in Grand Bazaar
×
Questions?
Create account >

Select the payment method

>

Payment

>

Confirmation of registration
try it for free (50 flashcards)
Get full access
Turkish Words: Top 1000 Nouns 1 - 25




25 flashcards

Turkish Words: Top 1000 Nouns 26 - 50




25 flashcards

Turkish Words: Top 1000 Nouns 51 - 75




25 flashcards

Turkish Words: Top 1000 Nouns 76 - 100




25 flashcards

Turkish Words: Top 1000 Nouns 101 - 125




25 flashcards

Turkish Words: Top 1000 Nouns 126 - 150




25 flashcards

Turkish Words: Top 1000 Nouns 151 - 175




25 flashcards

Turkish Words: Top 1000 Nouns 176 - 200




25 flashcards

Show all lessons (40)
If you are not satisfied with the product you have bought, contact us and we will reimburse your money.
Marcin Młodzki
,
board member
(Warsaw, 1st Oct 2018)
VocApp Sp. z o.o.
ul. Mielczarskiego 8/58 | 02-798 Warszawa
TAX NUMBER: PL 951 245 79 19
vocapp@vocapp.com
Address
VocApp Sp. z o.o.
ul. Mielczarskiego 8/58
02-798 Warszawa
NIP: 951 245 79 19
REGON: 369727696
Reasons to learn Turkish
In case you are curious what language is spoken in Turkey - it is the Turkish language! This language has its origins in Mongolia, a country in East Asia. The Turkish language was strongly influenced by Persian and Arabic. There are over 70 million people that speak Turkish. Most of them live in Turkey or the countries that surround it, while there are still many people that learn Turkish worldwide. Another interesting fact is that in the 20th century, the Arabic writing was replaced by a new Turkish alphabet that was adapted from Latin, which will make it easier for you to learn Turkish. The language spoken in Turkey is totally different, interesting and unique! If you want to try to learn something new, exotic and challenging - learning Turkish words is the perfect solution! Start to learn Turkish and to practice the basic Turkish words with VocApp and you will soon speak Turkish! Taking Turkish language courses might sound difficult but not with VocApp! Our platform and the language learning app offer you a great opportunity to learn Turkish at home. VocApp is user friendly and its study methods are proven to be very effective. To make your studies easier, each Turkish word will be combined with an example sentence to show you how to use the word and help you understand its meaning. The Turkish language courses we offer include the Turkish to English translation of all the words and additional explanations. Start learning Turkish with VocApp to achieve the results you'll be proud of!
Learn common Turkish nouns
Are you fed up with platforms and courses that are tiring or do not give you the results you hoped for? Is it difficult for you to find the right Turkish course? We have the perfect solution! This Turkish course will teach you some of the most important Turkish words - the Turkish nouns! It is important to learn these Turkish words since nouns add information to your speech. The Turkish words our linguists selected for this course are some of the most common and useful words that will help you in many situations. Our studying method is based on multi-sensory learning, meaning that we use not only text but also pictures for visual learning and recordings of the Turkish words to help you learn by listening. Spend at least 5 minutes a day learning the Turkish words that we included in this lesson to significantly enrich your Turkish language vocabulary!
Turkish nouns examples
The Turkish nouns included in this Turkish course are some of the most frequently used by the native speakers. They will help you understand the spoken language better and start forming your own sentences in Turkish. Here are some examples of Turkish words our linguists chose to include in this professional course:
1. zaman = time
2. insanlar = people
3. şey = thing
4. yaşam = life
5. dünya = world
As you can see, these Turkish words are really basic and important. To learn how to pronounce and use these Turkish nouns, proceed to the lessons of this course! Repeat and master these Turkish words and you will be ready to take our other courses. We advise you to continue with the Turkish Words: Top 500 Verbs and Turkish Words: Top 300 Adjectives courses that will complete your Turkish vocabulary with many new words and will help you finally start speaking Turkish! Also, don't forget to learn more about the Turkish culture with the Turkish daily life and culture course and you will impress the natives with your knowledge about Turkey! Expand your Turkish vocabulary right now with VocApp's flashcards!
---