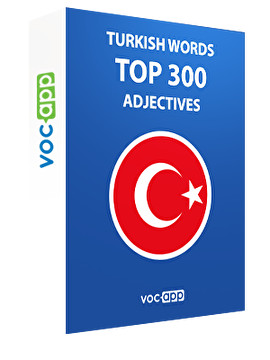 Turkish Words: Top 300 Adjectives
Describe what's around you in no time!
Feel more comfortable during your next visit in Turkey
Learn how to describe your baklava
Conversation in Turkish? Çok kolay :)
Intensify your learning thanks to the list of the most popular Turkish adjectives
×
Questions?
Create account >

Select the payment method

>

Payment

>

Confirmation of registration
try it for free (20 flashcards)
Get full access
Turkish Words: Top 300 Adjectives 1 - 25




25 flashcards

Turkish Words: Top 300 Adjectives 26 - 50




25 flashcards

Turkish Words: Top 300 Adjectives 76 - 100




25 flashcards

Turkish Words: Top 300 Adjectives 126 - 150




25 flashcards

Turkish Words: Top 300 Adjectives 101 - 125




25 flashcards

Turkish Words: Top 300 Adjectives 151 - 175




25 flashcards

Turkish Words: Top 300 Adjectives 176 - 200




25 flashcards

Turkish Words: Top 300 Adjectives 201 - 225




25 flashcards

Show all lessons (12)
If you are not satisfied with the product you have bought, contact us and we will reimburse your money.
Marcin Młodzki
,
board member
(Warsaw, 1st Oct 2018)
VocApp Sp. z o.o.
ul. Mielczarskiego 8/58 | 02-798 Warszawa
TAX NUMBER: PL 951 245 79 19
vocapp@vocapp.com
Address
VocApp Sp. z o.o.
ul. Mielczarskiego 8/58
02-798 Warszawa
NIP: 951 245 79 19
REGON: 369727696
Facts about Turkish
The Turkish language is the most spoken Turkic language and the official language of Turkey. Other languages that belong to the Turkic family are Turkmen, Azeri and Kazak. Some Turkish words were borrowed from Arabic and Persian but the structure of sentences is different in Turkish. There are linguistical similarities of Turkish with Korean, Hungarian and Japanese. If you speak Turkish, you can say many things with just a few words because the language is agglutinative. The oldest records in Turkish are those found on stone monuments in Mongolia which date back to 725-735 AD. The Turkish language is really different from what you're used to, that's what makes it so special and interesting and that is the reason why many people learn Turkish. The Turkish courses that VocApp offers make learning Turkish easy and fun! Besides, we have an easy to use app dedicated to language learning that will help you learn Turkish in a convenient way! Our language learning app offers you a great opportunity to learn the language of Turkey. VocApp is user friendly and its flashcards are very effective. Proceed to our courses to learn Turkish adjectives and many more things!
Learn Turkish adjectives
An adjective is a word that describes a noun or pronoun. It is very important to learn Turkish adjectives because they will help you indicate how something or somebody looks, describe a thing or person in detail. Also, the Turkish adjectives will add colour and information to your speech. Turkey adjectives always come before the nouns they describe. There is no need of a suffix to be added to the noun that the Turkey adjectives describe. When the Turkish adjective follows a noun, it means that the statement is a fact. Another thing you have to know is that the Turkish adjectives are invariable, they do not agree with the nouns in number. Turkish adjectives do not have a gender and are always the same, which makes it easy to learn them. Our flashcards will introduce you to a list of common adjectives that you need to know if you're learning Turkish. You will learn some of the most beautiful Turkish words and basic adjectives. Here are some examples of most used adjectives our linguists included in this course:
1. iyi = good
2. yaşlı = old
3. uzun = long
4. küçük = small
5. genç = young
Learn the pronunciation of these Turkey adjectives and find example sentences in our course! Learn Turkish right now with our great resources!
Great Turkish courses
We have an entire collection of Turkish courses and lessons on our site. They will help you learn Turkish fast and remember the new Turkish words forever. The most important when it comes to learning Turkish is regularity, that's why we advise you to repeat the words you've learnt and our Spaced Repetition System will help you with that! You can also set a reminder in our app to never forget when it's time to study! Learn the Turkish adjectives and continue mastering Turkish with our other courses:Turkish Words: Top 1000 Nouns and Turkish Words: Top 500 Verbs. They will expand your Turkish vocabulary and help you start speaking Turkish. Also, the Turkish in 1 day course will fit you perfectly if you want to learn some common Turkish phrases to use in conversations with native speakers! Learn Turkish with our effective and fun flashcard method!
---