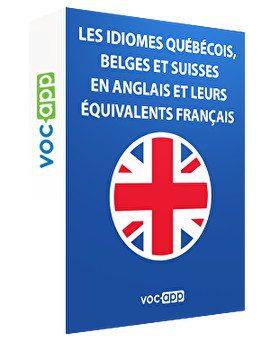 Les idiomes québécois, belges et suisses en anglais et leurs équivalents français
Fais-toi passer pour un vrai natif belge, québécois ou suisse à l'étranger !
Sois à l'aise avec tous ces idiomes et passe du français à l'anglais en un instant !
Montre ta connaissance des langues et fais-toi passer pour un vrai suisse, belge ou québécois, leurs expressions n'auront plus aucun secret pour toi !
On a parfois l'impression lorsqu'on visite la Belgique la Suisse ou le Québec que ce ceux-ci ne parlent pas vraiment français, ici tu auras tout le vocabulaire nécessaire pour les comprendre et rire de toutes ces différences de langues, certaines vont bien t'étonner !
Sign up for free
This course is 100% free. We want to show you how fast & easy you can learn with us.
Mots et expressions québécoises 1-50 - Quebec words and idioms 1-50




50 flashcards

Mots et expressions québecoises 51-100 - Quebec words and idioms 51-100




50 flashcards

Mots et expressions belges 1-50 - Belgian words and idioms 1-50




50 flashcards

Mots et expressions belges 51-100 - Belgian words and idioms 51-100




50 flashcards

Mots et expressions suisses 1-50 - Swiss words and expressions 1-50




50 flashcards

Mots et expressions suisses 51-100 - Swiss words and expressions 51-100




50 flashcards
---