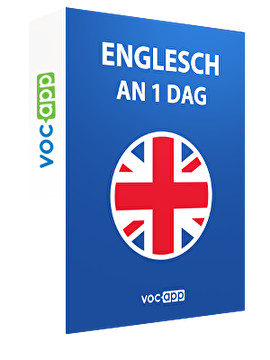 Englesch an 1 Dag
Léier nëtzlech Vocabulaire op Englesch!
Du wolls schonn ëmmer Englesch léieren, wosst awer net genau wéi a wou ufänken? Da bass du hei genau richteg!
Léier wichteg Verben an einfach Sätz déi s du an engem alldeeglechen Gespréich benotzen kanns!
Léier Englesch unhand vu konkreete Beispiller, a verbesser deng Aussproch!
Déi englesch Sprooch meeschteren? – Piece of cake!
Sign up for free
This course is 100% free. We want to show you how fast & easy you can learn with us.
10 Wierder an 60 Sekonnen - 10 words in 60 seconds




10 flashcards

Dat wësst Dir schonn! - You already know that:)




10 flashcards

Froen - Questions




10 flashcards

Einfach Sätz - Simple sentences




16 flashcards

Leit - People




28 flashcards

Verben - Verbs




19 flashcards

Untranslatable - Keng Iwwersetzung




6 flashcards
---