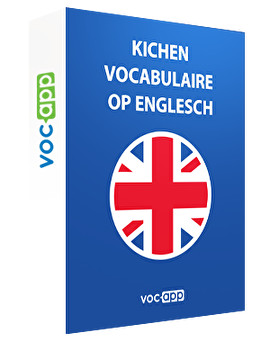 Kichen Vocabulaire op Englesch
Léier nëtzlech Kichen Vocabulaire a verbesser däin Englesch!
Léier de Vokabel fir eng Rei Friichten, Geméis a Gewierzer op Englesch mat Hëllef vu Flashcards!
An enger Kichen fënnt een vill nëtzlech a wesentlech Kichegeschir, léier d'Wuert fir all eenzelt auswenneg!
An dësem Cours fënns du eng Lëscht mat grondsätzlechen Verben déi dacks an Rezepter benotzt ginn, an erméiglecht dir esou déi verschidde Schrëtt vun engem Rezept besser ze verstoen an anzehalen.
Du wäerts gesinn dat et kannerliicht ass dësen Cours ze meeschteren!
Sign up for free
This course is 100% free. We want to show you how fast & easy you can learn with us.
Friichten - Fruits




37 flashcards

Geméis - Vegetables




38 flashcards

Verben - Verbs




25 flashcards

Kichenapparaten - Kitchen appliances




18 flashcards

Gedrénks - Drinks




13 flashcards

Gewierzer - Spices




35 flashcards

Goût - Flavour




10 flashcards

Typesch britesch Platen - Typical British dishes




11 flashcards

Trifle Schrëtt fir Schrëtt - Trifle step-by-step




14 flashcards
---