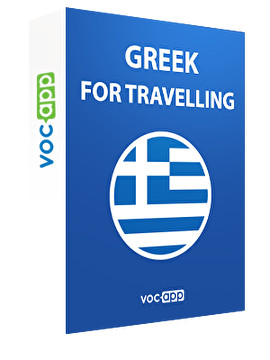 Greek for travelling
Cause who doesn't want to be ready when travelling?
If you are planning to visit Greece or Cyprus, this is your guide
Be prepared to speak with the locals, whether you are at the airport, at the station, the hotel or the beach
Impress the locals with the new vocabulary and phrases you are about to learn here!
Discover places worth visiting in both Greece and Cyprus
×
Questions?
Create account >

Select the payment method

>

Payment

>

Confirmation of registration
try it for free (20 flashcards)
Get full access
Plane - Αεροπλάνο




45 flashcards

Car - Αυτοκίνητο




39 flashcards

Hitchhiking - Ωτοστόπ




10 flashcards

Long-distance bus - Λεωφορείο μεγάλης απόστασης




24 flashcards

City bus - Λεωφορείο πόλης




17 flashcards

Train - Τρένο




33 flashcards

Ferry - Φέρι μποτ




10 flashcards

Hiking - Πεζοπορία




26 flashcards

Show all lessons (19)
If you are not satisfied with the product you have bought, contact us and we will reimburse your money.
Marcin Młodzki
,
board member
(Warsaw, 1st Oct 2018)
VocApp Sp. z o.o.
ul. Mielczarskiego 8/58 | 02-798 Warszawa
TAX NUMBER: PL 951 245 79 19
vocapp@vocapp.com
Address
VocApp Sp. z o.o.
ul. Mielczarskiego 8/58
02-798 Warszawa
NIP: 951 245 79 19
REGON: 369727696
Reasons to learn Greek
Many people learn basic Greek phrases in order to use them during their trip to Greece. Moreover, the Greek language represents one of the most interesting cultures, it is an old and beautiful language that will be useful to every person that learns it. So what are the reasons to visit Greece?
1. The impressive old history of the country
2. The remarkable and picturesque beaches
3. Amazing dishes as tzatziki, souvlaki, and moussaka
4. The hospitality of Greek people
5. The great weather during the summer season
For those and many more reasons, people start learning Greek phrases and basic words in order to show their interest in the Greek culture and impress the locals while learning about the history and discovering the beauty of their country. If you are also one of those who plan to visit Greece, make sure you will learn some Greek phrases to be fully prepared for your trip!
Learn basic Greek phrases
One of the best ways to learn basic Greek phrases and important Greek words for travelling is with our flashcards! They include the Greek translation to English of each of the words and Greek phrases included in the course and their Greek pronunciation. This way, you will not only understand and learn new Greek phrases but also master their Greek pronunciation to make sure others will understand you. This course includes several lessons with Greek phrases for hiking, taking a city bus, buying a ferry ticket, travelling by train and not only! You will learn the most common and important Greek phrases picked by our professional linguists! One of the lessons will introduce you to the places worth visiting in Greece and to information about Cyprus. Start our Greek course and learn important Greek phrases to make your trip perfect!
More Greek resources
If you're interested in continuing to learn Greek phrases, there are many more courses on our site! The course Greek in 1 day will introduce you to some of the most important basic Greek phrases and words, such as verbs, questions and courtesy phrases. After that, you can continue with Greek: day 2 that will teach you even more Greek phrases on different topics: useful nouns, numbers, space, features and more! The course Everyday phrases in Greek will be a perfect way to learn common Greek phrases for hotels, restaurants, shopping, to use in a bank or at work and to prepare for an interview in Greek. Learn Greek with VocApp's flashcards and the Spaced Repetition System to remember fast and forever!
---