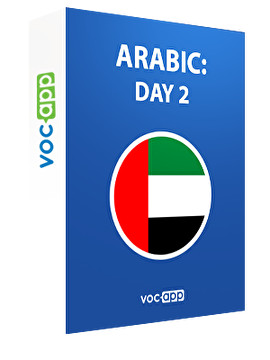 Arabic: day 2
!ممتاز - very well! - You're on your way!
Now that you know the basics, let's dive into everyday life!
With this course, you will learn how to count, describe objects, talk about time and much more!
Get to know useful words that will serve you in everyday conversations in Arab-speaking countries
We are here to give you the little (مساعدة: help) you need :)
×
Questions?
Create account >

Select the payment method

>

Payment

>

Confirmation of registration
try it for free (20 flashcards)
Get full access
Numbers - الارقام




60 flashcards

And, or, but, so - و ، أو ، لكن ، هكذا




23 flashcards

Space - مساحة




32 flashcards

Useful nouns - أسماء مفيدة




36 flashcards

Useful phrases - عبارات مفيدة




20 flashcards

Features - نعت




30 flashcards

Time - زمن




26 flashcards

A typical conversation from a student's book;) - محادثة نموذجية من كتا...




15 flashcards

Show all lessons (10)
If you are not satisfied with the product you have bought, contact us and we will reimburse your money.
Marcin Młodzki
,
board member
(Warsaw, 1st Oct 2018)
VocApp Sp. z o.o.
ul. Mielczarskiego 8/58 | 02-798 Warszawa
TAX NUMBER: PL 951 245 79 19
vocapp@vocapp.com
Address
VocApp Sp. z o.o.
ul. Mielczarskiego 8/58
02-798 Warszawa
NIP: 951 245 79 19
REGON: 369727696
Facts about the Arabic language
Each person that wants to start learning basic Arabic is curious to know more interesting things about the Arabic language and its origins. Such facts will motivate you to learn basic Arabic and will make discovering the language more interesting. Here are some of the things you probably will be interested to know about this language and the Arabic vocabulary:
1. The Arabic language is part of the Afroasiatic family which includes a few hundreds of dialects and languages spoken by millions of people worldwide. Moreover, the Arabic language is the most popular language out of the entire family.
2. The Arabic alphabet is an abjad, meaning that each of the letters of the Arabic alphabet stands for a consonant. By learning basic Arabic, you will actually learn how to write the consonants and how to use the vowel marks.
3. Many English words that you already know are of Arabic origin, for example, lime, mummy or magazine.
4. The Arabic language is an official language in over 20 countries.
5. Arabic is over 1000 years old. It originated in the 1st century CE.
6. There are many dialects of Arabic spoken in different countries. Some differ a lot, which makes it difficult for people from different countries to understand each other.
Learn basic Arabic
Arabic is a very unique and interesting language. Learning it will bring many benefits to your career, studies and to your self-development. It will improve your understanding of the Arabic culture and the countries where Arabic is spoken. Moreover, learning some basic Arabic words will increase your attention and improve your memory. Since so many people want to learn basic Arabic, our professional linguists dedicated some courses to this language to help you enhance your Arabic vocabulary in a simple and effective way. The course Arabic: day 2 will introduce you to some important and basic Arabic vocabulary, such as useful phrases and numbers in Arabic. It will allow you to start speaking basic Arabic and interact with the locals while travelling. The multisensory learning method represented by our flashcards will allow you to quickly remember the basic Arabic vocabulary and master its pronunciation. Each basic Arabic word or phrase will come with its translation, so you will fully understand what it means. Proceed to the course and discover even more special features and learning modes that will help you learn basic Arabic in no time!
More Arabic flashcards
This course is a continuation of the basic Arabic course Arabic in 1 day, which includes greetings in Arabic and Arabic vocabulary to describe activities and people. Moreover, you will find some untranslatable Arabic words explained to you in this course and will discover 10 Arabic words that you already know! Take a look at this course to learn even more basic Arabic! Download our fun app to learn basic Arabic easy and fast wherever you want!
---