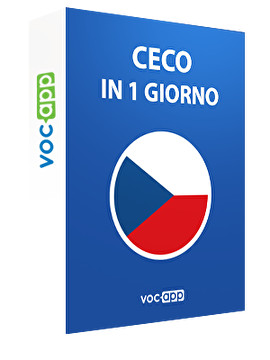 Ceco in 1 giorno
Impara le basi del ceco senza sforzo
Apprendi i fondamentali della lingua ceca
Prova a parlare come un vero e proprio ceco!
Prendi confidenza con la lingua di Pavel Nedvěd e Jaromír Jágr
Le nostre registrazioni aiuteranno la tua pronuncia!
Sign up for free
This course is 100% free. We want to show you how fast & easy you can learn with us.
10 parole in 60 secondi - 10 slov v 60 sekundách




10 flashcards

Lo sai già:) - Tohle už znáš:)




10 flashcards

Domande - Otázky




10 flashcards

Frasi di cortesia - Zdvořilostní fráze




17 flashcards

Persone - Lidé




28 flashcards

Attività - Aktivity




17 flashcards

Intraducibili - Nepřeložitelné




10 flashcards
---