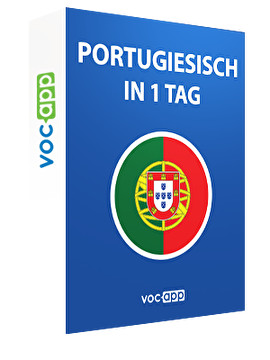 Portugiesisch in 1 Tag
Ihr Einstieg in die portugiesische Sprache!
Diеser Kurs bietet einen kompakten Einstieg in die portugiesische Sprache für Lernende ohne Vorkenntnisse!
Lernen Sie wichtige Wörter und Redewendungen die Sie auch tatsächlich anwenden können!
Dank unserer Audioausgabe werden Sie auch in der Lage sein Ihr Hörverstehen und Aussprache zu trainieren!
Sie werden sehen, dass Portugiesisch lernen und in alltäglichen Situationen anwenden kein Hexenwerk ist!
Sign up for free
This course is 100% free. We want to show you how fast & easy you can learn with us.
10 Wörter in 60 Sekunden - 10 palabras em 10 segundos




10 flashcards

Das kennst du schon! - Isto já conheces!




11 flashcards

Fragen - Perguntas




15 flashcards

Höflichkeitsformeln - Expressões de cortesia




18 flashcards

Personen - Pessoas




37 flashcards

Aktivitäten - Atividades




19 flashcards

Unübersetzbare Wörter - Palavras não traduzíveis




5 flashcards
---