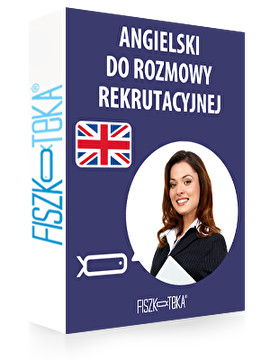 Angielski do rozmowy rekrutacyjnej
Popisz się znajomością angielskiego podczas rozmowy o pracę
Wkrótce czeka Cię rozmowa o pracę po angielsku? A może po prostu brakuje Ci słownictwa w sytuacjach zawodowych? Nie martw się, ten kurs jest właśnie dla Ciebie!
Poznaj słówka i zwroty, które pozwolą Ci poczuć się pewnie w kontaktach z obcojęzycznymi rekruterami
Naucz się, jak odpowiednio zadawać pytania i sygnalizować swoje oczekiwania w języku angielskim
Od przywitania, przez rozmowę, aż po pożegnanie - klucz do swobodnej konwersacji masz na wyciągnięcie ręki!
Sign up for free
This course is 100% free. We want to show you how fast & easy you can learn with us.
Przydatne słownictwo - Useful vocabulary




84 flashcards

W poszukiwaniu pracy - Looking for a job




22 flashcards

Słownictwo zawodowe - Work vocabulary




76 flashcards

Czasowniki - Verbs




35 flashcards

Podczas rozmowy o pracę - At the job interview




71 flashcards
---