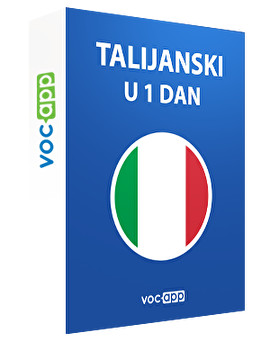 Talijanski u 1 dan
Kreni učiti talijanski
U samo jedan dan nauči osnove talijanskog vokabulara!
Započni talijansku pustolovinu!
Napravi prvi korak u učenju talijanskog jezika!
Otkrij koliko talijanskoga možeš naučiti u jedan dan!
Sign up for free
This course is 100% free. We want to show you how fast & easy you can learn with us.
10 riječi u 60 sekunda - 10 parole in 60 secondi




10 flashcards

To već znaš:) - Già lo sai;)




10 flashcards

Pitanja - Domande




10 flashcards

Ljubazni izrazi - Frasi di cortesia




16 flashcards

Osobe - Persone




28 flashcards

Radnje - Attività




17 flashcards

Teško prevedivi izrazi - Parole/ espressioni non traducibili




7 flashcards
---