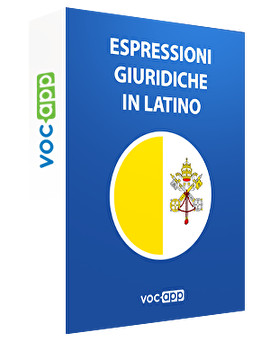 Espressioni giuridiche in latino
Aggiungi un po' di latino al tuo lessico giuridico
Migliora i tuoi discorsi di legge con un'infarinatura di maxime latinae!
Perché usare l'equivalente italiano quando puoi usare il latino?
Impressiona i tuoi colleghi e amici grazie a questo corso!
Apprendi espressioni e detti latini attraverso le nostre flashcard!
Sign up for free
This course is 100% free. We want to show you how fast & easy you can learn with us.
Espressioni latine 1 - 25




25 flashcards

Espressioni latine 25 - 50




25 flashcards

Espressioni latine 50 - 74




24 flashcards

Proverbi latini




27 flashcards
---