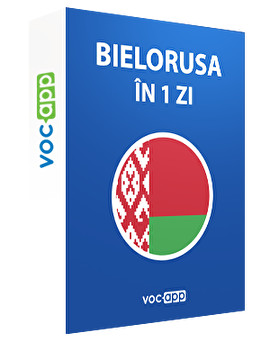 Bielorusa în 1 zi
Cunoaște bielorusa de bază cu ajutorul acestui curs!
Învață cum să pui întrebări și cum sună expresiile de politețe în bielorusă!
Descoperă principalele verbe pentru a forma propriile propoziții!
Practică pronunția cuvintelor bieloruse cu ajutorul lectorului nostru!
Cartonașele VocApp vor face învățarea simplă, rapidă și plăcută!
Sign up for free
This course is 100% free. We want to show you how fast & easy you can learn with us.
10 cuvinte în 10 secunde - 10 слоў за 60 секунд




10 flashcards

Ce cunoști deja:) - Вы ўжо гэта ведаеце:)




10 flashcards

Întrebări - Пытанні




10 flashcards

Expresii de politețe - Ветлівыя фразы




17 flashcards

Oameni - Людзі




28 flashcards

Acțiuni - Дзеянні




17 flashcards

Intraductibil - Неперакладальныя




7 flashcards
---