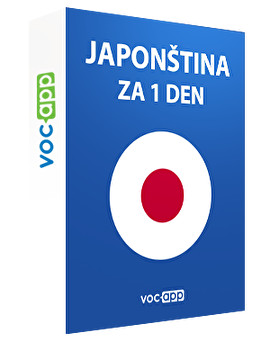 Japonština za 1 den
Základy japonštiny snadno a rychle!
Japonsko neznamená jen anime a sushi!
Nauč se japonštinu a objevuj bohatou japonskou kulturu!
Japonština je bohatý jazyk, kterým mluví přibližně 130 milionů lidí
Ačkoliv se způsob psaní japonštiny může zdát na první pohled složitý, s námi to lehce zvládneš
Sign up for free
This course is 100% free. We want to show you how fast & easy you can learn with us.
O japonštině - úvod




7 flashcards

Japonská abeceda (Katakana) - výslovnost




71 flashcards

Japonská abeceda (Hiragana)




71 flashcards

10 slov v 60 sekundách - 60秒で学ぶ必須10単語




10 flashcards

Slová, která Ti mohou být povědomá




10 flashcards

Otázky




10 flashcards

Zdvořilostní fráze




17 flashcards

Lidé




29 flashcards

Činnosti




17 flashcards

Nepřeložitelné




15 flashcards
---